If your business has a mobile website and you are running a pay-per-click (PPC) campaign through AdWords, Yahoo, or Bing, there is no reason to not also be running a campaign targeted at mobile devices. Even if you don't have a mobile website, there are several benefits to running a campaign optimized for mobile searches.
Mobile offers several benefits that are either lacking or non-existent in other PPC campaigns, namely:
The growth in the use of mobile devices for search. As people rely more on their mobile devices, they have also begin using mobile for tasks usually associated with computers, such as search.
A click-to-call number is displayed with the ad, allowing the searcher to immediately call the business.  These calls are highly relevant and can lead to much higher conversion rates.  For this reason alone, advertisers should consider running a mobile campaign.
The Cost. From a cost perspective, mobile campaigns are highly efficient.  In a comparison with a non-mobile Google AdWords campaign and Facebook in 15 days we saw the following results:


| | | | | |
| --- | --- | --- | --- | --- |
| | Clicks: | CTR: | Average CPC: | % Daily Budget |
| Google Advwards: | 5572 | 6.95% | $1.61 | 82.70% |
| Facebook: | 484 | 0.03% | $0.48 | 6.49% |
| Mobile: | 698 | 10.68% | $0.33 | 10.81% |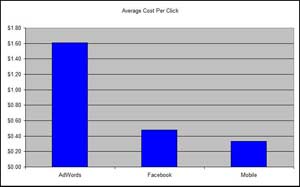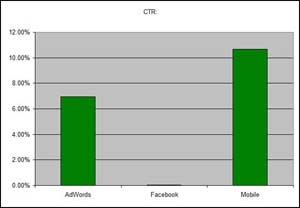 The Relevancy. What isn't shown in the graph above is that of the 698 "clicks", 42 of those clicks were direct phone calls to the business, signaling immediate action.
These points demonstrate how effective mobile campaigns can be in delivering highly relevant ads to mobile users.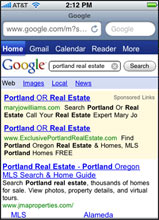 Conclusion: As we continue to see a shift towards Google CEO Eric Schmidt's prediction that "mobile is the future", we also see the search engines refining their mobile tools to bring higher relevance to mobile search and different formats with which advertisers can segment and target their audiences. If you have not incorporated a mobile campaign to your PPC strategy already – you should consider beginning one now.  
————————————————————————–
Contributed by: Jonas Pauliukonis, Milestone Internet Marketing