Contributed by
Keith DeVey, Social Media Manager
Tyler Harding, Account Coordinator
With the ever-changing world of social media, hoteliers may find it hard to stay on top fo the latest trends. To help, Milestone's social media team pieced together this list of top 10 social media trends we have seen in 2011.
1. Social Media Influencing Search Engines
Google, Bing, and an increasing number of smaller search engines such as DuckDuckGo and Blekko are incorporating social data into their Search Engine Results Pages. This has the potential to change the playing field for new businesses trying to achieve visibility in search results. It's also less than great news for websites that have been relying heavily on link buying, producing huge volumes of content (like repetitive long-tail, content farm-style site content), or just the power of having very old domains.
Both Bing and Google executives even admitted in interviews that their search results are affected by signals from social media, such as Facebook Likes, Tweets, and Google +1's. This allows search results to become increasingly customized based on the user's personal preferences, and that of their friends.
2. Videos Becoming More and More Important:
According to YouTube statistics, over 3 billion videos are viewed online each day. Yes, we said BILLION! With its increased engagement, Youtube has become the second largest search engine after Google. Knowing these powerful stats, search engine marketers have already begun to focus on this medium by creating short videos highlighting brands. Videos can also be tagged with powerful and competitive keywords that an up-and-coming brand or website might not be able to compete with in the organic search world.
Google's latest Panda Update (update to their search engine algorithm) released in the last week of October clearly favors video sharing sites such as YouTube, Hulu, NBC, CBS, and HBO.  The key takeaway is this: If your hotel doesn't have a video hosted on YouTube, you are missing a huge opportunity.
3. More People Socially Sharing Their Activities and Check-ins
New technology is allowing destination hotels to rapidly boost their online social status. Take the Ushuaia Beach Hotel, a popular resort in Ibiza that recently used RFID (Radio Frequency Identification) technology to get it's real world popularity to translate online. Guests were given the option to wear a RFID wristband throughout their stay, which was synchronized with their Facebook profile during check-in. Sensors throughout the hotel (pool, bars, restaurants, etc) let users swipe their wristband to upload pictures, update their status, and 'check-in' and/or 'like' using Facebook Places. All content captured using the hotel's swipe machines was collected on the hotel's own Facebook page.
Beyond RFID devices, guests can use any one of a variety of social media channels to "check-in," including Facebook, Yelp, and Foursquare (which grew by 3400% in 2010, reaching over 6,000,000 active members). These programs can help hotels, not only spread their information across social circles, but also provide useful details and information about their guests' real world activities.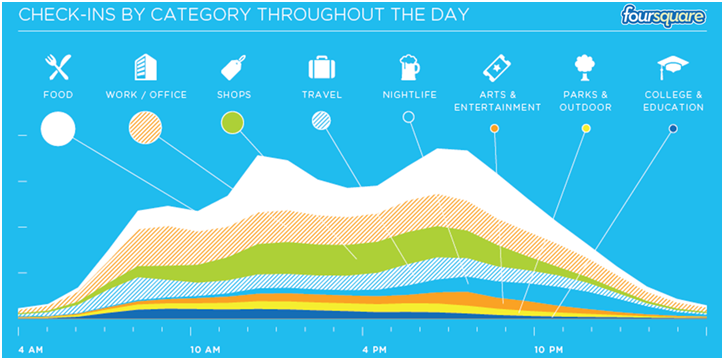 4. The Rise of Social Buying Sites:
Most of us have seen already seen and know about Groupon, but the company's recent trial (most would say flop) with Super Bowl ads in February showed the world that social buying has arrived. In addition to Groupon, group buying clones have popped up everywhere. LivingSocial, Travelzoo's Local Deals, and even Google Offers are prime examples.  There have been much debate as to how successful these deals are for advertisers as revenue sharing on merchandise already marked down 50% can yield very small profits.  We have heard both success stories and one-and-done trials for some of our clients that experimented with a deal on these sites. If you have advertised on a social buying site before, please feel free to share your experience by leaving a comment at the bottom of this blog.
5. Rise of QR and Other Mobile Device Codes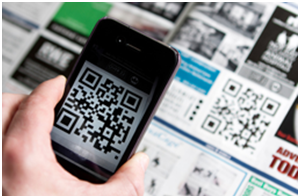 With the rapid growth of web-enable devices, engaging customers has become a game of switching between the real world and the online world. This is where QR (Quick Response) codes can bridge the gap.
Consumers can "scan" these 2D barcodes with their web-enabled mobile device, upon which they are diverted to a website landing page or access all other sorts of information, including web addresses, contact information, or Facebook action/promotion pages.
6. Implementing Facebook Fan Gates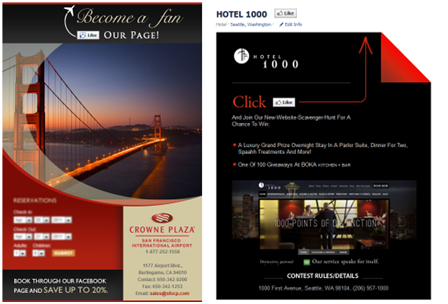 One of the best ways to convert unique visitors to your Facebook page into permanent fans is by creating a "Fan Gate".  A fan gate essentially hides certain information on your Facebook page from non-fans.  Take a look at some of the fan gates below that offer fans unique savings or access by becoming fans.
.
.
.
7. Growing Importance of Monitoring Review Sites
Managing the online reputation of a business has never been more important, as consumers often have a web-enabled device at their fingertips at all hours. For hotels, a string of poor reviews can steer potential guests away, but also help to remedy any issues within the property.
On the flipside, encouraging guests who have had a good experience during their stay can help attract potential guests who would have otherwise overlooked the property. Either way, the amount of reviews that hotel properties have directly correlates to where they appear on search engine results pages (i.e. Google and Google Places reviews).
8. The Importance of Geo-tagging Images
Image upload and sharing sites like Flickr, Picasa, and Panaramio allow you to tag an address to each image you upload.  Why is this important you ask?  Well, let's pretend a traveler is planning a trip to Miami this Christmas and performing some image searches or map searches of Miami Beach and Ocean Drive.  In the screenshot from Panaramio below, we can see that images of hotel pools and facades are all attached to the map. If images really do speak a thousand words, this could be the start of the conversion process for a potential guest.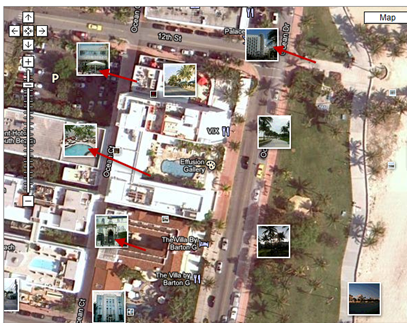 9. Responding to Guest Comments on Facebook & Twitter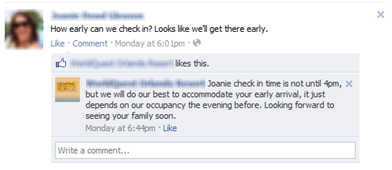 No matter how clean the property is, or how well the staff is trained, some guests will inevitably leave a less than favorable review of their stay. We are seeing more and more guests leave their comments and reviews directly on the brand's Facebook or Twitter profiles, deciding to voice their opinion publically.
Responding directly in a respectful manner to specific comments can help form relationships with, not only the guest that left the post, but also all potential guests that reads the public response.  Actively combat the impact of negative reviews and keep guests interested in your property. And don't just respond to the negative comments; tell positive reviewers how much you appreciate their business, and invite them back for a visit during their next trip.
10. Improved Facebook Insights and Tracking
Ever since the conclusion of Facebook's F8 Conference on September 22, we have seen constant updates to the way Facebook collects and displays traffic data for business pages.  You can now clearly understand if traffic to your Facebook contest is coming from paid advertising or organic word-of-mouth. New stats like "virality" show the total number of Facebook users that had the potential to see one of your posts (in essence looking at the friends of your brand's fans). A new "talking about this" stat will let you know the number of times someone on Facebook created a newsfeed update about your page.
Although not new, great information can be found in the demographics section, which breaks down your fanbase by age, sex, language, and home city.  This can be very powerful knowledge if you are trying to decide whether to promote a golf package or a girl's weekend getaway package.