by Mike Supple, Sr. Social Media Manager, Milestone Internet Marketing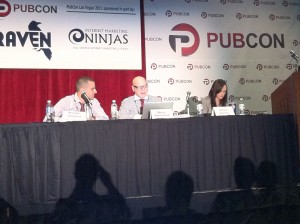 Changes in social media happen on an almost daily basis. While this can be daunting to any marketer, it also means that by staying on top of the trends you have a unique ability to stand out from your competition. This PubCon Las Vegas 2011 session covers some of the key advantages brands have in Facebook right now, and why we should act on these opportunities now: they just might not exist tomorrow!
Facebook paid advertising presents a unique opportunity for brands to get in front of a very carefully selected audience. However, paid ads on Facebook have their own strategies that must be carefully thought through before jumping into a campaign. So what do you need to do to be ready?
Before you start

Do you have your search marketing complete? (Organic strategy and Google PPC)
Do you have an optimized Facebook page that will drive users to action?
Do you have a strategy for socializing on Facebook?

Where to start

Decide if you are leading users to your Facebook page or your website. (74% of converters say a Facebook page is the desired format for engaging vs. sending the user to an external website.)

How to target

Basic demographics: age and sex
Advanced demographics: birthdays, sexual orientation, relationship status, language, education, workplace and more
Likes and interests: activities, music, books, movies, television, hobbies, etc

Measuring success

Impressions, clicks, click through rate (CTR), cost per click (CPC)
Social endorsements
Fan increase
Conversions/actions
When you really start to examine all the ways you can target users with ads on Facebook, it can be quite scary to see what they really know about you. Concerns over privacy are forcing Facebook to reevaluate the information they make available to advertisers, so many of the current paid advertising options could potentially disappear any time. But, for creative and strategic advertisers, Facebook does present some very intriguing ways to connect with your potential audience.
Ability to send direct messages to any profile. The default setting for all Facebook users is to accept messages from any other Facebook user. This gives you the ability to reach out to anybody and create a genuine conversation. This is something that no other channel currently allows. When done carefully, it's a great way to develop new brand advocates.
Occupation targeting. Facebook lets you target your ads based on users' education and work, but also on their likes and interests. More than likely, somebody interested in "business development manager" is a sales person in real life. Why advertise on LinkedIn when Facebook has a much larger user base? You can target the same professionals.
Competitor targeting. Google doesn't allow you to buy PPC ads based on your competitors' branded keywords, but there are no rules against targeting people who express interest in your competition. There are many group pages dedicated to people who like certain aspects of brands, so find these groups and target them.

As more brands discover the potential impact of Facebook advertising, the price of conversions is rising. The sooner you get in, the sooner you can take advantage of the depth of Facebook's user knowledge and start converting for your brand.

Speakers:
Michael Verghios
Marty Weintraub