IN-DEPTH: Interview with Anil Aggarwal, CEO of Milestone Internet Marketing, Inc.
By Ritesh Gupta – August 2010
Social Media continues to grow in importance. It has not only become a critical tool to interact with customers, but is also a key element that impacts organic search rankings for your hotel.  Hotels that take advantage of this hot trend are seeing significant benefits in terms of online placement and revenue.
"The most common question that we get asked in the hospitality industry is why I should be concerned about social media and how will I benefit from social media elements.  An essential follow-up to these questions is how should I go about optimizing for social media and measure ROI?  In this article, we give tips about some of the key initiatives that you could undertake to maximize the gain on social media channels.  The content in this article is gathered from several years of practical experience working on social media optimization strategies for our clients," says Anil Aggarwal, CEO of Milestone Internet Marketing.
Aggarwal, who is scheduled to speak at the forthcoming Travel Distribution Summit North America 2010, to be held in Chicago (13-14 October), spoke about the significance of social media strategy and practical tips for the same.
Anil Aggarwal:
While we make our best efforts to bring you the most effective channels and strategies, given the rate at which the social media space is evolving, it is likely that things may evolve and the channels we mention today may have changed.   Few people had heard about Twitter and understood the effectiveness of the "tweeting" model until the presidential election at the end of 2008.  By summer 2009, it had become a hot raging media.  One thing we are certain of is that social media is here to stay and is the next generation of Internet Marketing.  Hotels and companies taking advantage of this trend will emerge ahead of the game, just like hotels who adopted search engine marketing in early 2000s.  Before we delve deeper into the top 10 ideas for social media, let's take a look at why you should even consider investing in social media.
Why Social Media?
Here are the top reasons why every business interested in Internet marketing should be looking at social media:
Saturate the Search Engine Results Pages (SERPs) for your brand name – All the major search engines are moving towards displaying search results from your website and all the major social media and news channels.  It is imperative that the hotel has presence in all these channels to dominate the search engine results page.  The example below shows you the Universal Search Results page from Google when "Milestone Internet" is typed in the search engine.  In our opinion, social media optimization is the next generation of Internet marketing.  Search Engines give higher relevance to businesses connected through different social media channels resulting in higher placement in search engines.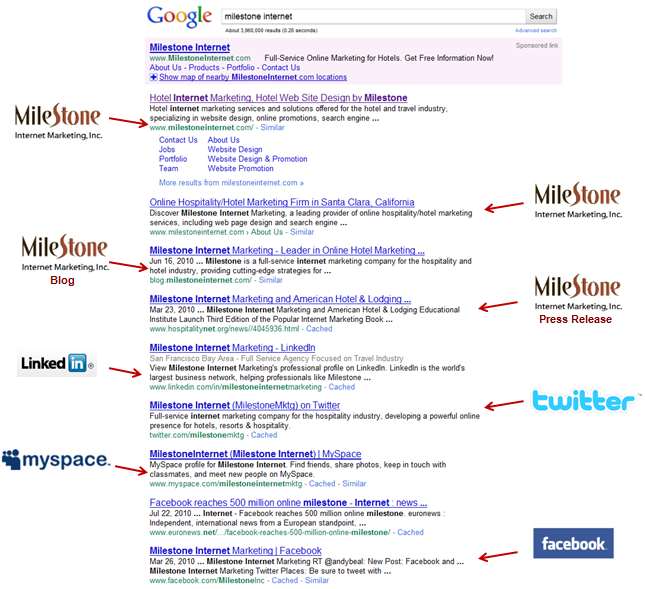 Social Media is the fastest growing category of Internet Marketing in terms of attracting new users.  For example, Facebook has more than 500M users (source: Facebook).  It is the next generation of Internet marketing and can drive traffic to your website and blog from different social media channels.
Social Media allows you to establish a relationship with your customer like no other media has previously allowed.  It enables you to establish a 1-1 relationship where you get regular feedback on how your customers are reacting to your marketing messages.
Social Media offers an opportunity for you to establish yourself as an expert in your market.  Use of blogs, Twitter, etc. can help you establish yourself as an expert in your destination.  People like to buy from experts and like to follow experts on their blogs post, tweets, etc.
Rank in Search Engine's Latest Real Time Search Algorithm – Gain additional exposure and traffic when social conversations rank in real time search on Google, Yahoo, Bing.
Now, that we have made a strong case of why you should be investing in Social Media, the obvious question that pops up is "how should I go about doing social media optimization?"
Social Media Marketing Value Chain
All the efforts that a hotel puts into social media marketing can be bundled into the following 3 categories.  We will segment the top 10 things to promote on social media channels into these categories so that the hotels can use them as practical tips.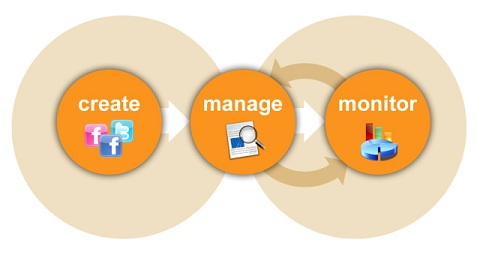 Top 10 Ways to Promote on Social Media
CREATE
MANAGE AND PROMOTE
Integrating and Cross-Linking ChannelsOnce your channels are set up, it is crucial to integrate and cross network all your channels. Make sure that the social media icons are displayed clearly on your website so that consumers can get to those channels. Cross-link Flickr, Twitter, and YouTube to your Facebook account. Integrating and Cross-linking the channels will help you in optimization, keeping it fresh as well as in expanding your network. Bring live feeds from your social media channels into your website. Example: http://www.nickhotel.com/html/social-media.asp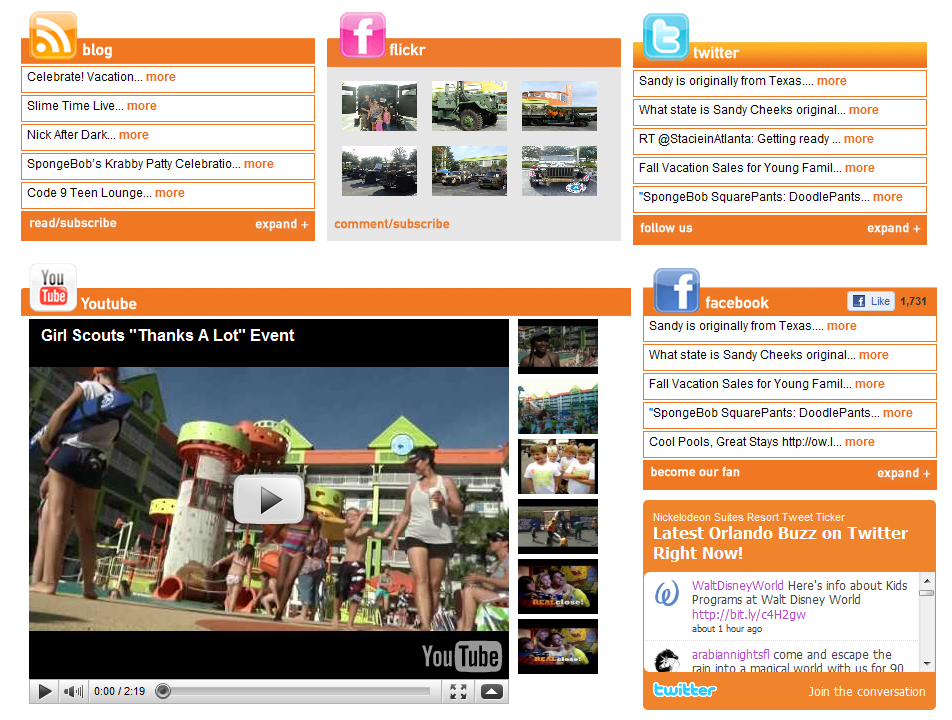 Grow Fan-base

Facebook –Be My Friend – Become friends with organization which are most important for your business
Promote Facebook Profile Page – Upload email list of your customers, business associates and ask them to become friends with you on Facebook
Convert your friends on Facebook by offering time sensitive specials
Network with local organizations and grow your fan base
Twitter Follow – Stay connected and current by finding out relevant businesses in your area and following them

Press Releases and Articles – Using online news channels such as Business Wire and PR Web to release Articles and news information enhances search engine optimization and web.
MONITOR
Create a Social Media Reviews platform on your website to encourage users to upload viral content on your website.
Example: http://www.nickhotel.com/guestreviews/orlando-hotel-guest-reviews.aspx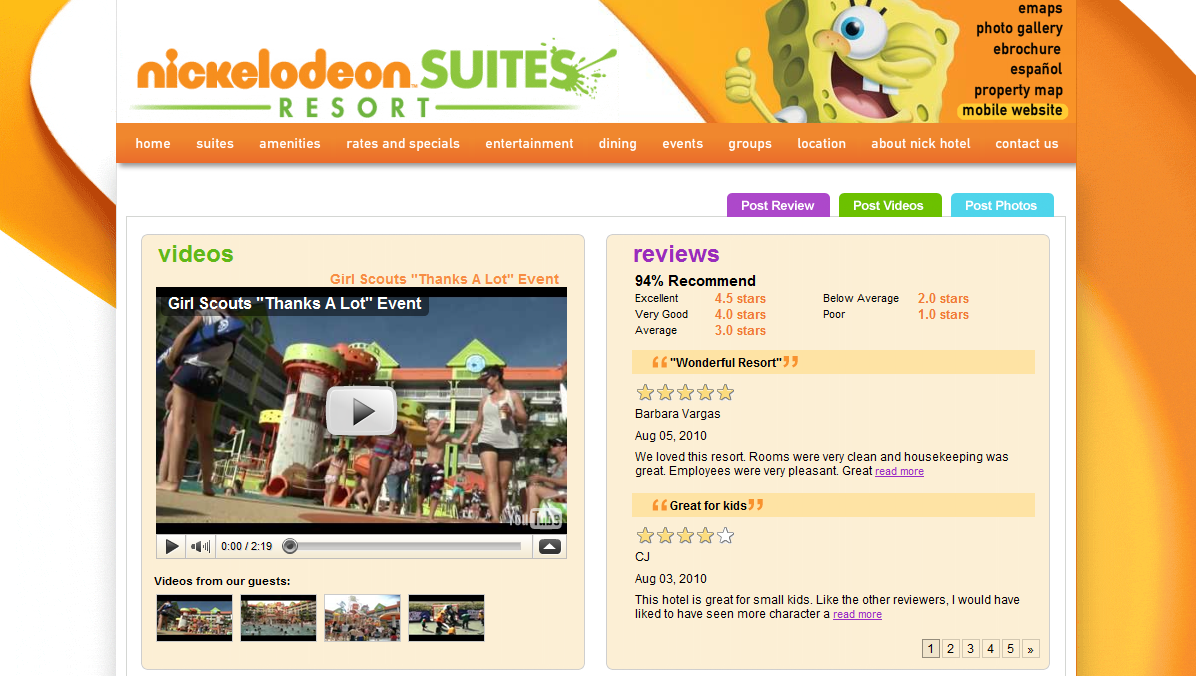 Monitor Social Media Channels and Review Site
We recommend hotels should actively monitor social media channels and review sites. The success of social media efforts can be measured in many different ways:
Awareness

– Number of friends & followers

– Social media mentions

– New relevant links

Conversion

– Track through promo codes

– Google Analytics

Relationships

– How much interaction?

– Who is initiating?

Engagement

– Unique visitors

– Time on site

– Frequency of visit
There are many options available for hoteliers to monitor social media activity.
Analytics – hotels can integrate Google Analytics codes on Facebook pages, blog pages, etc. and track the activity on these channels. In addition, YouTube andFlickr provide reporting tools that can help you gauge activity on those channels.
Using sophisticated social media and reputation management software such as eBuzz Connect™. Tools such as this tell you what people are saying about your property on different channels, video views, photo views, etc., and can benchmark your performance month-over-month to determine whether the social media strategies are effective. These tools also help in proactively responding to negative /positive reviews and minimize the risk of not knowing what people are saying about your hotel online. Here is a screen shot of one such tool from Milestone Internet Marketing, Inc. https://www.milestoneinternet.com/html/online-social-media-management-system-for-hotels.asp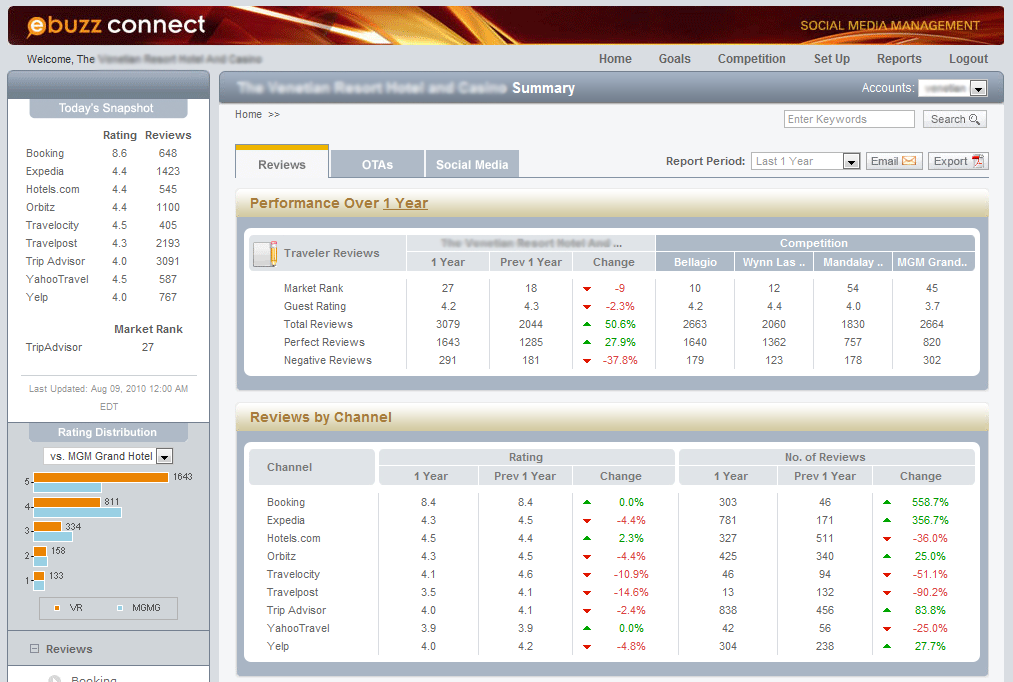 Summary
Social Media is an integral part of the real-time search algorithm. Social media creates real connection between companies and customers, and that connection equals purchase intent. Ongoing connection and relationship with your customers will eventually turn them into a volunteer marketing army.  Make sure that social media is an integral part of your overall marketing plan.  If you are limited on budget and resources, still keep monitoring the social media domain and do the best you can.  Hoteliers who want to be ahead of the curve, should invest today in the media that is fast emerging as the future of internet marketing.
Travel Distribution Summit North America 2010
Anil Aggarwal, CEO of Milestone Internet Marketing, is scheduled to speak at the forthcoming Travel Distribution Summit North America 2010, to be held in Chicago (13-14 October). The two-day event will feature over 60 speakers, including the ones from Hilton, Wyndham, Travelport, Lufthansa, Expedia, Google and from many other such organisations of repute.
To register for the event or for more information, click here:
About Eye for Travel:
Eye for Travel is a leading media company specializing in business intelligence for the travel and tourism industry. Eye for Travel provides a series of senior executive travel conference on a diverse range of topics including travel distribution, online marketing, social media, mobile and revenue management.  Eye for Travel also provides some of the most in depth research into global online travel markets and trends. For more information visit www.eyefortravel.com
About Milestone:
Milestone Internet Marketing, Inc. is a leading provider of internet marketing solutions for the lodging industry. Milestone's portfolio of services includes Hotel Website Design, Search Engine Optimization, Pay-per-Click marketing, Social Media Optimization, eBuzz Connect™ Online Reputation Monitoring, etc. Milestone currently works with over 850 hotels and drives over $250M in annual revenue for its clients. Milestone is a preferred vendor for several major lodging industry brands and works with some of the leading management companies. Milestone is also well known as a lodging industry educator for its Hotels to HTMLs internet marketing workshops and book. For more information, please visit www.milestoneinternet.com or call (888) 350-8396.
If you are interested in attending the workshops, send an email to [email protected].
______________________________
Contributed by:
Anil Aggarwal, CEO, Milestone Internet Marketing, Inc.
Ritesh Gupta, Managing Editor/ Global Correspondent, Eye For Travel