As the Internet continues to be the most important distribution channel for hotels, how can new websites compete against older existing domains? The simple answer is aggressive link building, but rather than another article explaining links, I'll suggest another proven method to get a new domain to hit the ground running with three easy steps:
Purchase domain early and setup a one page website
Create a handful of authoritative inbound local links
Build original content to boost traffic when the site goes live
Once you've acquired the hotel or decided to develop an independent website, purchase a keyword-rich URL and publish a one or two page brochure on that domain. This page should include your address, general information about your hotel, booking engine widget, and local attractions in your market. Since only a few consumers will be able to find this page, and will eventually be replaced by a full-blown website, save time and effort by creating a simple html page. Furthermore, since search engines don't immediately reward websites with front page placement until they trust your content, verify your referrals (inbound links), and your site becomes more mature, developing this temporary page will start the clock on your domain age and begin gaining relevancy for your soon-to-be full blown website.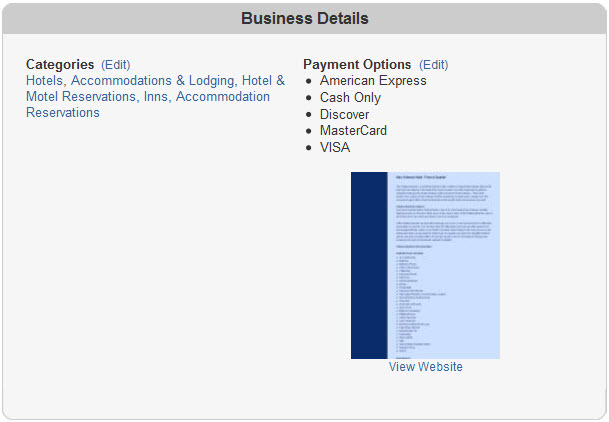 After your page is live, begin socializing your domain via links with other local businesses and Internet directories. This will allow search engine robots to find your new site naturally through relevant inbound links. In the example above, the directory is confirming that the business is a hotel, offering accommodations in a specific region, and the directory has a cached image of the temporary webpage. New websites with no history can gain prime visibility within the first six months for long tail local and attraction-based searches and should optimize accordingly. The more sought after and highly competitive [City Hotel] and [Hotel City State] keyword results take longer to achieve visibility in competitive markets, so focusing your optimization on these competitive terms will generate less revenue in the first year as compared to the long tail searches.
Whether you're a year from breaking ground on a new hotel, or simply want to get ahead during the typical 60-90 days of development on a full website, a new URL can benefit from a temporary webpage.  As you can see from the image below, the temporary page not only generated some traffic in January and February, but because the domain has gained relevancy, the full website very quickly started getting consistent, relevant traffic when it launched in March.