Pay-per-click (PPC) involves coordination between around three key factors – placing the right ads in front of the right audience at the right time.  In order to match up all three aspects – relevancy, targeting, and timing – oftentimes meant creating separate campaigns that each focused on a specific goal.
While these practices added value to campaigns, a fourth area that sometimes complicated matters was budgeting. Especially when trying to set and achieve very specific goals for ROI, trying to accommodate changes in costs could become tricky.
On Monday, Google announced in their AdWords Blog the introduction of Shared Budgets – a feature that allows advertisers to establish a single daily budget that's shared by multiple campaigns.  These changes give advertisers more control over budgeting and should make account management much easier.
To better demonstrate how this budgeting option might play out – consider the following scenario:
Scenario: Say you are a hotel looking to spend your PPC dollars ($100/day) across three campaigns:
A campaign targeting desktops ($50/day)
A campaign targeting mobile devices ($30/day)
A remarketing campaign to reach people who visited your site but didn't book a room ($20/day)
Traditionally, a budget would be manually set for each campaign and typically each campaign would hit its daily budget. However, if on one day the desktop search campaign saw fewer impressions and clicks and only spent $40, resulting in a total daily spend of $90.  With Shared Budgets, however, the unspent $10 from the desktop campaign could then be funneled into the mobile or remarketing campaigns.
To create a shared budget, advertisers should click Shared library and then select Budgets. Google will then provide step-by-step instructions to create a new shared budget.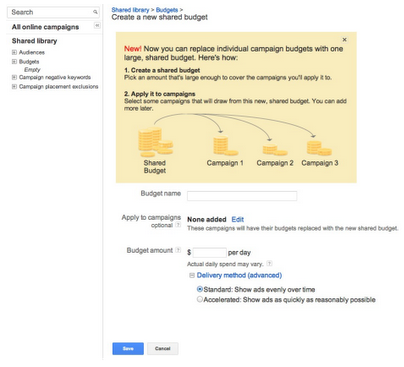 Above: screenshot of the shared budget option within Google Adwords

In conclusion – the shared budgets feature should help compensate for fluctuations in paid search traffic by automatically making adjustments across campaigns. This should untimely improve performance and help marketers spend less time constantly monitoring budgets and more time optimizing.
---
Contributed by Jonas Pauliukonis, Sr. eStrategist