With Google announcing the Core Web Vitals metric and its Experience Update, which focuses on user experience, some commentators speculated about the future interest in AMP.
To determine the impact of AMP when it comes to improving a website's rank, organic traffic, and performance, Milestone Research analyzed non-AMP websites vs. AMP websites across different industries, which included 5,000 landing pages, 408,000,000 search impressions, and millions of site visits. We treated the COVID-19 shutdown data as outlier data, and the study did not focus on AMP-required topics/keywords and results.
What we determined proved that AMP will not only help your business meet the requirements of Google's Core Web Vitals Update, but it will impact various facets of your business, with the most important impact being increased revenue.
AMP outperforms on Google's Core Vitals and readies for User Experience Update
AMP improved the performance of all three factors of Google's Core Web Vitals – Largest Contentful Paint (LCP), First Input Delay (FID), and Cumulative Layout Shift (CLS).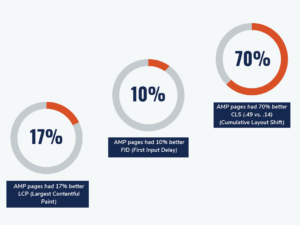 AMP improved page speed SIGNIFICANTLY
To ensure that we can attribute page speed improvements to the implementation of AMP on websites, we tested non-cached versions as well as cached versions, and our findings proved that AMP improves page speed significantly: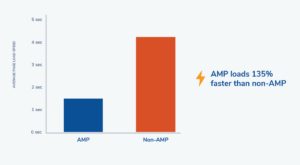 AMP Business Impact: Increase in page ranking, impressions, sessions, page views, traffic share, and revenue
With business revenue being the focus, Milestone Research found that AMP has a significant impact on rankings on search, search sessions, impressions, page views, and traffic share.
AMP Business Impact: Increase in page ranking, impressions, sessions, page views, traffic share, and revenue
AMP improves the user experience of a website. Sites with AMP have a 9% improvement in rank (2 positions) vs. sites with no AMP pages
AMP does positively impact page rankings by 2 positions
Analyzing the same website before and after AMP, the sites with AMP showed an increase in search impressions of 23%.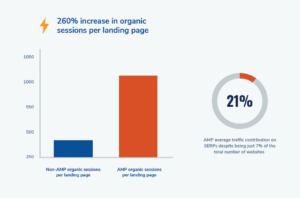 Our analysis proves that having AMP on your website improves rankings and sessions, reduces the page load time, and contributes significantly to the share and total traffic of a website.
Download the free AMP research report to find out the impact on organic revenue.