As we usher in 2014, it is once again time to examine our crystal balls and predict this year's top trends in digital advertising for the hospitality industry. In 2013, we saw more than 105% increase in mobile ad spend.  The mobile ad spend is still increasing and is projected to reach $30 billion in 2014, and $72 billion by 2017 (source: eMarketer.com, Dec 2013).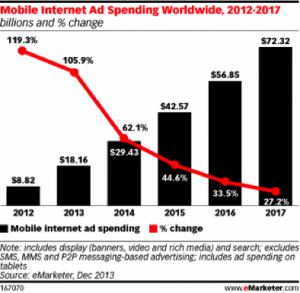 Needless to say, mobile strategy should be the lynchpin for your digital advertising solution, for 2014 and beyond. Here are some of the other exciting trends in digital advertising that you should pay attention to this year:
Hotel MetasearchWhat is it? It is a platform that feeds hotel rates based on the user's searched dates. Google Hotel Finder, TripConnect (TripAdvisor), Kayak and Trivago are some of the most prominent hotel metasearch channels. As the hotel rates permeate into organic search results, the metasearch trend will only increase.  Google SERP now shows hotel rate information from Google Hotel Finder, and TripAdvisor just announced that it has built similar integration with Bing, allowing hotel rates from TripAdvisor to surface in Bing's SERP.

Benefit: It allows hotels to show in geo searches and displays the hotel's rates for one or multiple properties.  This allows user experience to improve as it speeds up the time to find the perfect hotel. With this process, users do not have to go to multiple sites or pages to see rates for certain properties.

Mobile OptimizationsWhat is it? With enhanced campaigns forcing the envelope in Google's mobile options, websites are offering smarter solutions to tackle the conversion optimization using custom sites and technologies, including responsive design. Reassess your campaign's performance on mobile devices and ensure you are effectively allocating budget and tracking success metrics.Along with online mobile conversions, ensure you are tracking offline (phone) conversions from mobile devices. Mobile call tracking tools allow you to track the number, length and actual call recording by dynamically inserting a forwarding number to your ad campaigns.Benefit: Optimizing your campaign for mobile devices helps provide the user with content and images that best suit their device.  This permits a greater user experience and ultimately helps you reach higher booking goals.
Images in Google Paid SearchWhat is it? Google is continuing to test new image beta products to help provide a better search experience to users, including image ad extensions and brand images.  They even have a 125×125 image spot in the location extensions that are visible in map results.

Benefit: Implementing images in Google paid ads will help provide better visibility by showcasing your property. It also helps increase click-through-rates and the relevancy of your ad.

Attribution TrackingWhat is it? Attribution tracking allows you to track multiple click-keyword conversion, not only first/last-click conversion.  Google Analytics is testing a new way to track image impression attribution. There are plenty of tools that allow you to track and generate reports for first-click to last-click keywords that are triggered in the buying funnel.Benefit Make better keyword purchases for non-branded terms, lower cost and increase bookings.
Demand Side Platform (DSP) ProductsWhat is it? Demand Side Platforms (DSPs) are benefiting from partner information (and BIG Data) to gather user intent by tracking sites and searches of users who fit the demographic that DSP marketers want to target.  Marketers using DSPs can show image ads to audiences that are looking for a specific product or service.Benefit: DSP increases relevancy in media advertising. DSPs can incorporate search retargeting to know exactly what keywords people have searched, or websites they have visited, in order to show ads to potential visitors who are looking to book rooms in your hotel's area. This information can also be used to tailor ads to show for luxury or budget accommodations. As technology advances we should see ROI for these campaigns continue to grow.
Facebook RetargetingWhat is it? Site retargeting has been available on Facebook in the past but only through DSP access. Facebook has recently announced that they will allow retargeting on their site through their Facebook Ads UI.Benefit: Retargeting on Facebook will allow large brands and advertisers to show ads to their consumers where they spend most of their online time. This will increase visibility for remarketing ads and allow the ability to customize campaign targeting with Facebook's targeting options.
Google Display SelectWhat is it? This is a new product in Google that runs on the search network.  Google will show Google Display Network (GDN) ads to people who are a match to the user intent for a set of keywords.  So someone may be looking for a room in Miami but they do not see your search ad, but Google sees that your keyword list contains "hotels in Miami", and then shows an image ad or text ad to a user who has recently shown interest for this type of purchase.Benefit Increase reach with lower cost-per-click in highly competitive markets and utilize Google's amazing wealth of search data.
Google's Remarketing Lists for Search Ads (RLSAs)Benefit Remarketing for search list ads (RLSAs) allow you to show remarketing ads in search results to people who have visited your site and later are searching on a keyword in your RLSA campaign.  Say your RLSA campaign contains the keyword "hotel in San Antonio". If somebody had visited your website at an earlier date, then later conducted a search for "hotel in SA", your ad would be visible in the latter search as a reminder of your property.Benefit Increase booking retention and decrease conversion drop from visitors booking on competitor or OTA sites.
To stay on top of marketing trends for the hospitality industry, check out our blog.
________________________________
Contributed by: Kchitiz Regmi, Vice President of Worldwide Operations, and David Johns, PPC Manager.