AMP will get your site ready for Google's User Experience Update. Now more than ever is the time to implement AMP.
With Google announcing the Core Web Vitals metric and its Experience Update, which focuses on user experience, some commentators speculated about the future interest in AMP.
To determine the impact of AMP when it comes to improving a website's rank, organic traffic, and performance, Milestone Research analyzed non-AMP websites vs. AMP websites across different industries, which included 5,000 landing pages, 408,000,000 search impressions, and millions of site visits. We treated the COVID-19 shutdown data as outlier data, and the study did not focus on AMP-required topics/keywords and results.
What we determined proved that AMP will not only help your business meet the requirements of Google's Core Web Vitals Update, but it will impact various facets of your business, with the most important impact being increased revenue.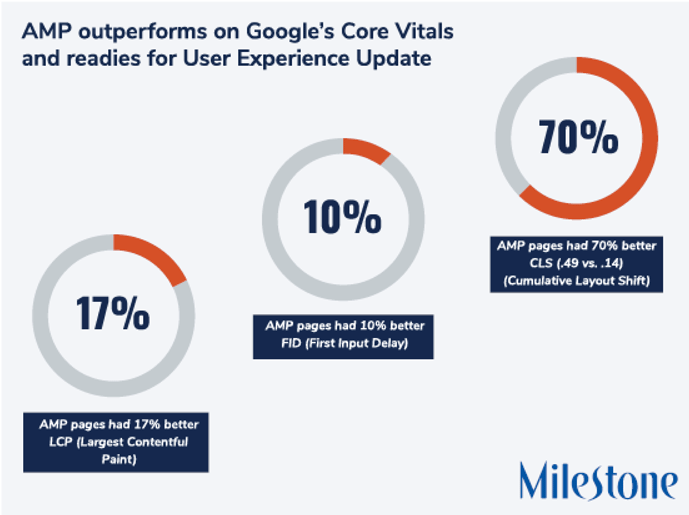 AMP outperforms on Google's Core Vitals and readies for User Experience Update
AMP improved the performance of all three factors of Google's Core Web Vitals – Largest Contentful Paint (LCP), First Input Delay (FID), and Cumulative Layout Shift (CLS).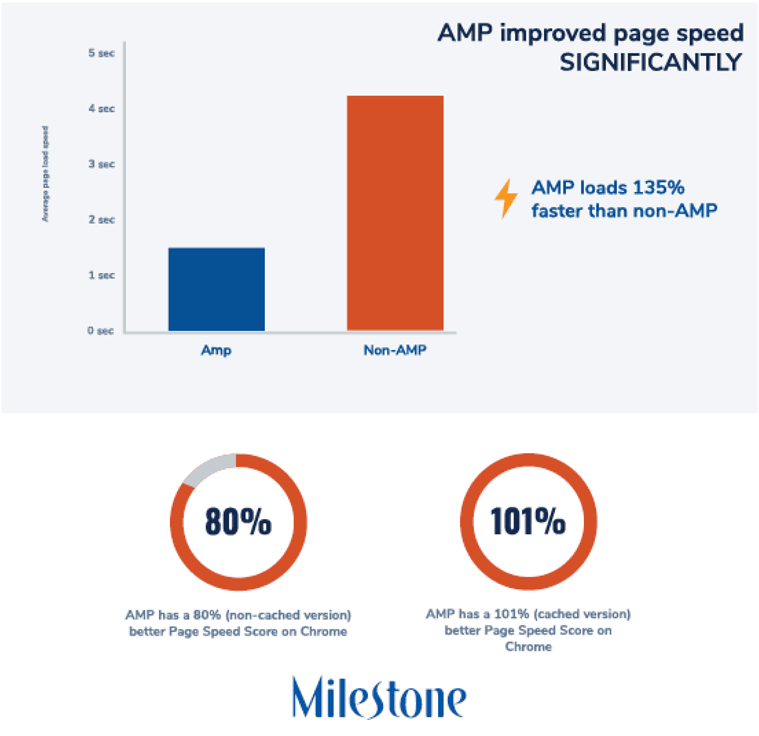 AMP improved page speed SIGNIFICANTLY
To ensure that we can attribute page speed improvements to the implementation of AMP on websites, we tested non-cached versions as well as cached versions, and our findings proved that AMP improves page speed significantly:
AMP Business Impact: Increase in page ranking, impressions, sessions, page views, traffic share, and revenue
With business revenue being the focus, Milestone Research found that AMP has a significant impact on rankings on search, search sessions, impressions, page views, and traffic share.
AMP does positively impact page rankings by 2 positions
AMP improves the user experience of a website. Sites with AMP have a 9% improvement in rank (2 positions) vs. sites with no AMP pages.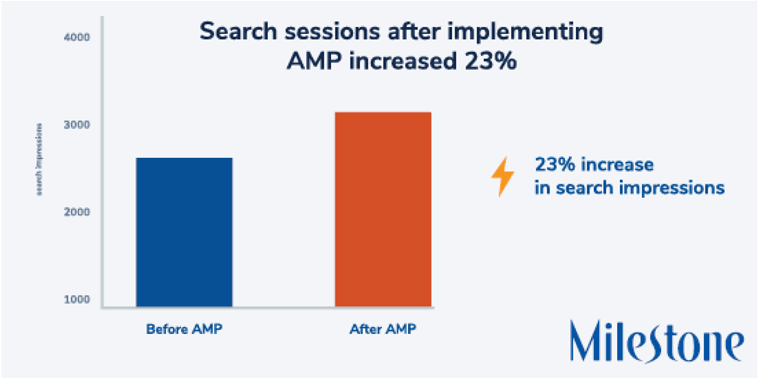 Search sessions after implementing AMP increased 23%
Analyzing the same website before and after AMP, the sites with AMP showed an increase in search impressions of 23%.
AMP had over 380% more search impressions per page than non-AMP
Within a site that used AMP on some pages but not on others, Milestone Research found a significant difference in the average number of impressions the page saw. The difference appears to be from the additional universal results exposure the AMPs secured.
AMP pages saw an increase in organic sessions and contributed significantly towards the traffic share of the website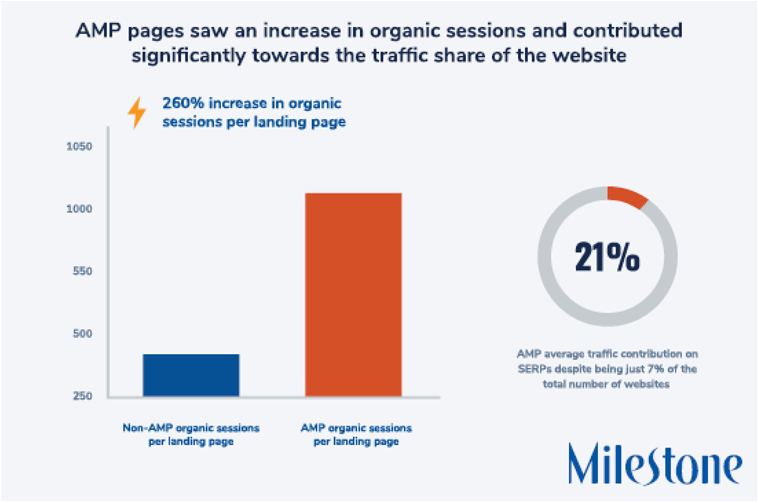 AMPs showed 260% more organic sessions per landing page and contributed towards 21% of the search traffic share of the website and far more traffic per page than non-AMPs despite AMPs being just 7% of the total number of websites in our study.
Pageviews after implementing AMP increased 14%
For the same website before and after AMP, the AMP versions displayed an increase in pageviews of 14%.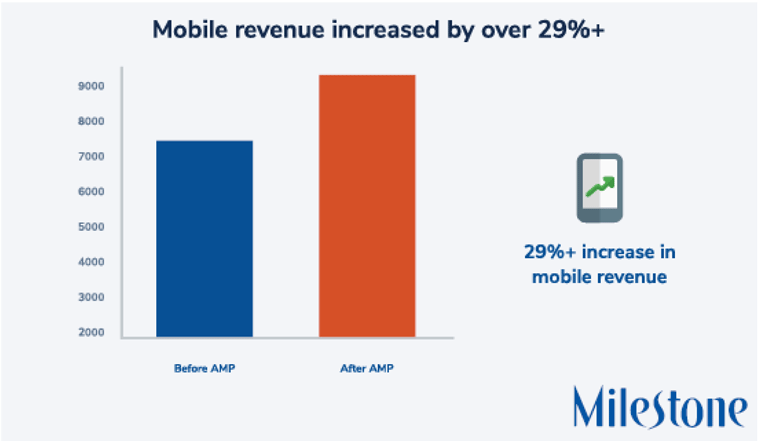 Mobile revenue increased by over 29%+
Here too, we analyzed the mobile revenue of a website before and after AMP, and the AMP versions produced revenue gains of over 29%+.
Research Methodology and Data Collection
The data from the 60 sites was collected from various platforms and sources for the month of May in June of 2020 by the Milestone Research team.
Conclusion
Our analysis proves that having AMP on your website improves rankings and sessions, reduces the page load time, and contributes significantly to the share and total traffic of a website. In addition, considering that every second in delay in page load time has a significant impact on your business' revenue, through this analysis we determined that businesses with AMP could see a monthly revenue gain anywhere between $3,500 – $40,000–and that's just by having faster-loading pages.
Recommendations
The data clearly shows that AMP benefits content with visibility, traffic, and revenue. In this era of Google's Core Vitals, it is even more important to pay attention to customer experience and improve it before it becomes a stronger ranking signal in 2021. In fact, implementing AMP is an opportunity and will impact your rankings. Based on our previous research we found that fewer than 4% of websites are using AMP despite the growth of mobile usage and majority mobile traffic for most industries. AMP can be a competitive advantage for the sites that implement it sooner.
Put simply, sites should implement AMP. Start with the 10 highest traffic pages and add 10 each month until you have AMP on the top 100 pages of your website. Milestone can get AMP up and impacting your site in about 2 weeks whether you use Milestone CMS or not.
AMP: Your Answer to Deliver Content Faster with a Better Customer Experience
READ RELATED MILESTONE RESEARCH REPORTS
Download the full Schemas Impact SEO Results Report
CTR by Position and SEO Click Curves Report
LEARN MORE: Milestone provides fully managed and software-only schema solutions to customers, agencies, and resellers.
Contact Milestone to get started at [email protected]
LEARN MORE: If you want to learn more about AMP and how Milestone can help you leverage it to maximum benefit, reach out to us at [email protected] or call us at +1 408 200 2211