Search trends are constantly evolving. In this article, we share some of the latest search trends and their impact on overall internet marketing strategy.

Most Notable Search Trends – In February alone, Google launched 40+ changes to their algorithms. Also, Bing launched its "Whole Page Relevance" update, which is calculated based on higher click-through rates. Like Google, Bing is also favoring hot, trending, and fresh content on the site. Furthermore, Google also announced in March that it is adding semantic search along with keyword search.
All these changes are driven to improve overall search results. Here is the brief list of what these changes are and robust strategies businesses can deploy to leverage these changes.
Google's and Bing latest update heavily support site freshness, local relevancy, and multimedia. Some of the most relevant changes launched in February and March were focused towards Google's ultimate goal – make searching better for users. Google stresses relevance and penalizes those who use tricks to make their site seem more relevant. Some of the notable changes during this update include website freshness, engagement score, higher real estate to fresher images and videos in universal search, and giving more prominence to local results in universal search. The strategies include the following:
Freshness and engagement
Importance of multimedia
Prominence of local results in universal search (Venice update)
Semantic Indexing
1. Freshness and engagement– Keeping high engagement and freshness score of the site – both Google and Bing use social media and freshness score signals in their organic web search ranking algorithmic calculations. The key is to focus on generating socially sharable, time-sensitive, trustworthy and relevant content. Below are several strategies businesses can deploy to enhance site freshness and engagement scores: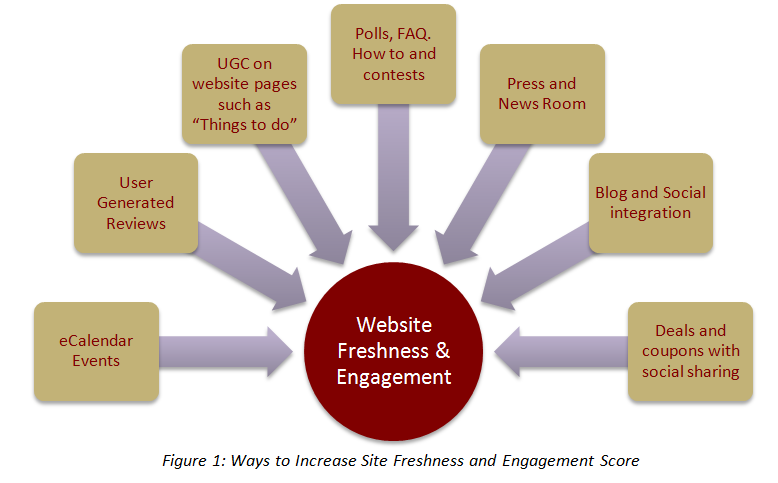 Keeping the end goal in mind, hotels can try to add User Generated Content (UGC) on the site by integrating reviews or adding Frequently Asked Questions (FAQs), fresher videos and images about the area/ hotel, how-to guides, creating polls and contests to increase site engagement, freshness, and interactivity.
It is important to evaluate your site's content management system and see if your platform and content strategy are helping you in keeping content fresh and relevant. You can write relevant blog posts about local events, press releases about newsworthy items, or leverage info-graphics to create buzz on social channels. High freshness score and relevant content can lead to best user experience and overall improved ROI.
2. Importance of multimedia (images, videos) – Incorporate multimedia such as images, videos, and maps as part of your content strategy. Bing and Google are both giving more real estate to local results, videos, images, news, and maps in universal search results. Google's algorithm updates in February and March favor sites with good quality i.e. fresher and relevant multimedia assets such as images, videos, and news releases. The search engine's main goal is to provide users with rich answers to their queries in the most relevant format.
Multimedia assets are effective even if they are posted on other channels such as photo sharing sites (Flickr, Picasa) and video sites (YouTube). Most users access images and videos related to destinations or hotels by going to these social sites directly, and sharing the multimedia from there. This makes it important to include links to your domain in image and video descriptions. Having social reference to your domain from other channels can help improve social signals for your business.
Check and see if multimedia features on your site are easily crawled by search engines. Ensure your site is following the best SEO and search guidelines for optimizing multimedia. It is a great idea to check analytics to ensure your site is optimized for local search and that your multimedia real estate are crawled and driving search traffic. Check your search funnel, referring sources, and conversion points carefully. Social channels, images, maps, and videos might not be at the bottom of your search funnel, but should be contributing towards generating quality traffic to your site. Check figure 2.0 below to see how social is indirectly impacting conversion: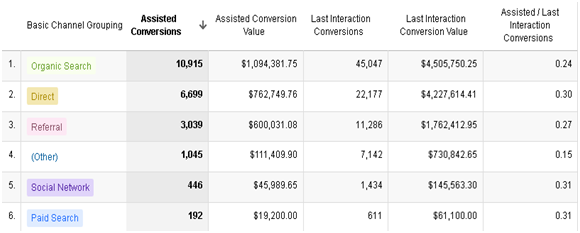 3. Prominence of local results in universal search – Keep your website content optimized for local search. This search update also known by code names Venice, Chicago, etc. is specifically geared towards giving higher relevancy to local results in universal search.
Check to see if your site is doing a good job of geo-optimizing content, multimedia assets, meta-tags, etc. There is a high chance for your site to show up in highly competitive keyword searches if your local presence is well optimized.
4. Semantic Indexing – Google also announced adding semantic search along with keyword search to improve search results. Semantic search truly means that search engines are focusing more on the meaning and actual intent of the searcher rather than producing results based on keywords. Search engines are essentially saying that "I know what you mean based on all the data I have".
Semantic search (recent article in the Wall Street Journal explains semantic search) uses artificial intelligence and searcher intent rather than parsing through keywords like a dictionary.
According to Amit Singhal from Google, search engines will present more facts and direct answers for queries showing key attributes, relevant and precise results rather than standard results coming out of keyword search. To power semantic search, Google is using an encyclopedia of knowledge consisting of people, places, and things.
Google will try to understand what the query is and what contextual information should be the best results for that query. Google aims to give users the best results full of relevant information rather than just links to 10 different websites. According to Google, this change towards the future of search will affect 10% to 20% of results, which would easily be one of the biggest changes in Google history. Read Wall Street Article: Google Gives Search a Refresh.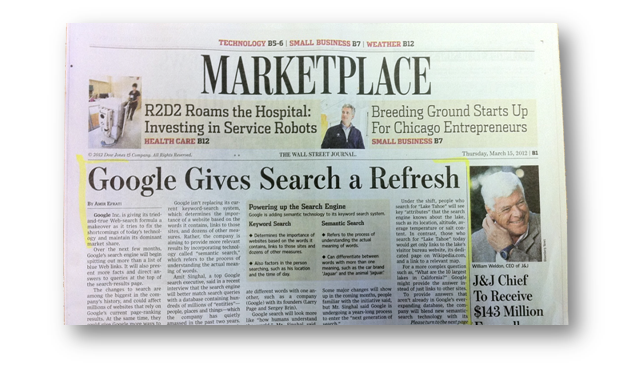 One specific strategy that businesses need to do, which can help in leveraging Semantic Search, is to review the relevancy of information on their website. Is the content on your site written to provide the most relevant and precise results for search queries? Is your site's architecture doing a fine job of organizing and presenting the most critical information quickly?
What does Semantic Search mean for your business, hotel, and website?
Content – Focus on natural language along with keyword search. Content should be written after doing intensive research on user search behavior along with doing keyword search. What type of questions are people asking for searching for specific products, location, etc. and what is the most relevant answer to these questions? For example, if your hotel is located in San Francisco and you'd like to provide relevant content on your site. After doing research, you discover that people are looking for the best time of the year to visit SF, places to visit in the city, time sensitive information such as area events, local deals, tours etc. Based on this research, your content strategy should be focused on providing specific and relevant information customers are searching for along with evergreen information about your hotel and city. Enhancing your content with the most specific, relevant, and timely information you can provide to searchers about such topics is the best strategy to ensure your website's content is ready for semantic search.
Schemas, Microdata and Rich Snippet – Google, Yahoo and Bing launched Schema.org a one-stop resource for webmaster looking to add markup to their webpages to help search engines understand intent of the information presented. Your webpage has meaning that people understand when they read, but search engines have limited understanding. By adding markups released by search engines, you are telling search engines that this information describes a specific movie, or place, or person, or video, etc. In other words, you can help search engines better understand your content and display it in a useful, relevant way. There are three different types of markups (microdata, microformats, and RDFa). Currently, search engines are supporting all three different types of markups but Google suggests that you use microdata markup as this is adopted by Schema.org . Search engines are using these markups to improve quality of search results and provide richer snippets. The image below shows how hotel information is getting pulled with ratings, reviews, and address information by deploying microdata.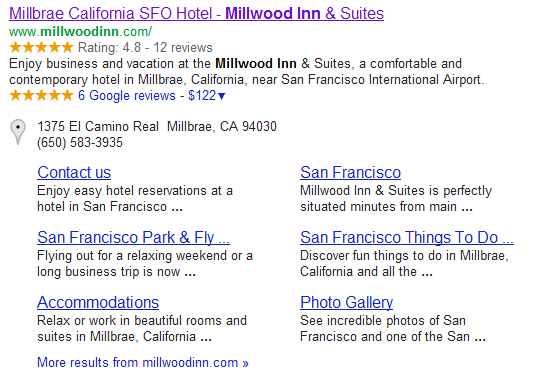 Key takeaways: Your website's architecture should be focused on improving user experience. The main goal should always be: how can we improve the user's time spent on the site and provide relevant information faster to the user. Search engines launched several SCHEMA markups in order to read the most relevant information faster and quicker. Ideal site and content architecture should support microdata tags and should be quickly indexed and produce richer snippets.
As search engines are constantly focusing on improving search experience, businesses need to evaluate their overall on-page and off-page promotion strategy. Is it enough to build a site and promote it through paid search and link building? Do we need a different strategy to leverage the latest search trends? Should we change our content and site architecture to leverage semantic search? It is hard to know the exact ROI for implementing all these strategies; however, deployment of these strategies will definitely help in higher click-through, reduction in bounce rates, higher freshness score, better user experience, and ultimately leading to higher ROI.
________________________________
Contributed by: Benu Aggarwal, Founder and President, Milestone Internet Marketing, Inc.