by Mike Supple, Sr. Social Media Manager, Milestone Internet Marketing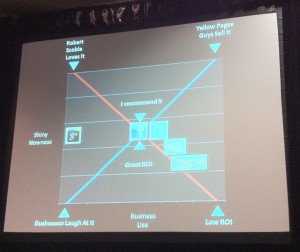 Marketers tend to jump on the bandwagon of the latest social media trend, because shiny and new things catch people's attention. The problem with this method is that it is easy to waste time trying to get results from a tool before it is relevant to business. Instead, this time can be spent applying new strategies to channels that have been around for longer and have reached a point of stabilization within the market: like Twitter. This session of PubCon Las Vegas 2011 explores the latest Twitter trends.
Dan Zarrella, the Social Media Scientist, presented interesting new data that examines in detail how the structure of a Tweet can impact responses, RTs and click-throughs. But as Warren Whitlock pointed out, this can be putting the cart before the horse. Having the right structure and timing is all well and good, but if you aren't saying something that people will want to share with their friends, then you are just broadcasting in the dark.
While Twitter may be one of the stable "veterans" in the social marketing space, there is still plenty of room for new trends and marketing ideas. Below is a list of some of the latest trends as viewed by Krista Neher.
Things that worked early aren't necessarily effective now

When Twitter first launched, any simple contest could grab user attention. Now companies are a lot more creative on Twitter so it takes more effort to get an engaged response.

Other social networks are adding Twitter-like functionality

Twitter was the only network that had open content without required reciprocity
Google+: can publicly post/subscribe to anyone you want
Facebook: you can create public posts and people can subscribe to your posts

There are a lot of people already providing great content on Twitter

Content is losing its space. You need to ask: what am I bringing to the table? What am I doing that's unique?

If you have a business people don't care about, it's tough to have a strong presence on social medianow for customers, etc)

Are there people who already love your product and want to talk with/about it?
Identify the parts of your product that are unique and interesting, and focus social efforts around that.

Twitter is becoming a key place to voice complaints

This needs to be a base expectation; know you will be dealing with this and be ready to reply
Be prepared to have quick responses to customer service issues
Don't always have to give things away: people just want to be heard

Using Twitter to Drive Business

Trend 1: Get followers
Trend 2: Engagement – but just because somebody is talking to you doesn't mean they are more likely to do business with you. Needs to be the right engagement
Trend 3: Real, Tangible Business Value – How do I use this channel to drive specific value to my business? Value = awareness, brand building, equity, direct sales, pr
Key to success: What is the business value you're hoping to get so you can design a strategy that gets results
Good conversations start with good listening. Know what your customers want from you, create messages in a way that they will want to respond to, and craft your messages in a fashion that makes it simply to reply and retweet.
Speakers:
Brian Carter
Dan Zarrella
Krista Neher
Warren Witlock