Chateau Bourbon, a Wyndham Historic Hotel
Account Start Date: December 2009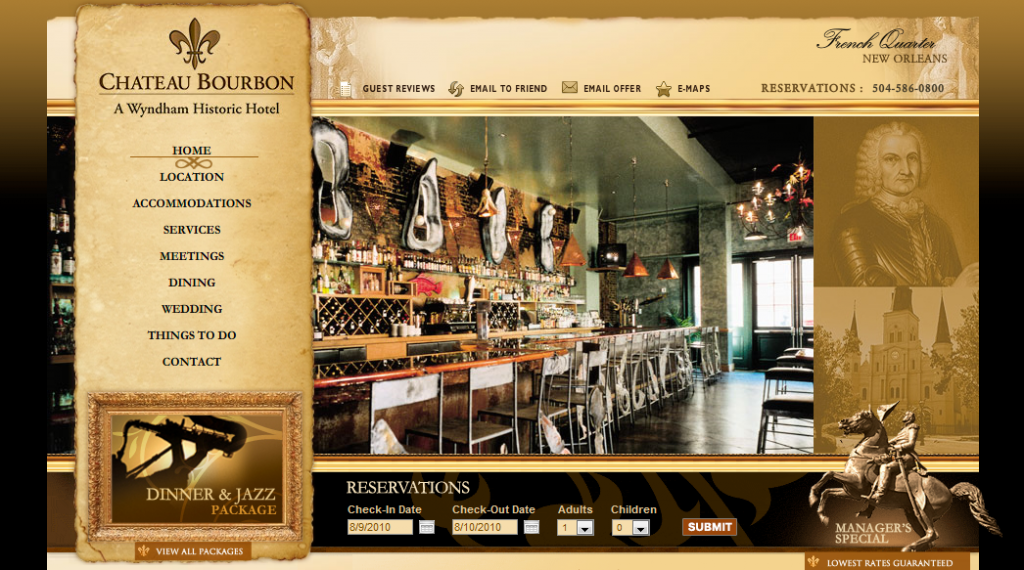 Chateau Bourbon needed a system that could offer simple and integrated reporting and summarize the hotel's performance on the major social media channels. Furthermore, the client wanted to have the ability to monitor hotel mentions on traveler review channels. Milestone offered eBuzz ConnectTM to Chateau Bourbon. The Online Reviews Listening and Social Media Management System met all of the hotel's requirements and more.
The hotel has been proactive in using the system to monitor their online reputation. The general manager was also hands-on in responding to urgent items, delving deeper into important issues, and working with the hotel team to improve services and boost guest satisfaction. The GM Summary report provides the general manager with an overview of the hotel's current standing in different social media channels: Traveler Reviews, Video Sites, Blogs/News/PR, Photo Sharing, Social Networking, Bookmarking, and OTAs.
Results:
Increased total number of reviews by 72% in the first six months
Increased perfect reviews by 68% across all channels
Achieved #1 Rank by Channel in Expedia and Hotels.com from March – May 2010
GM's Summary Report: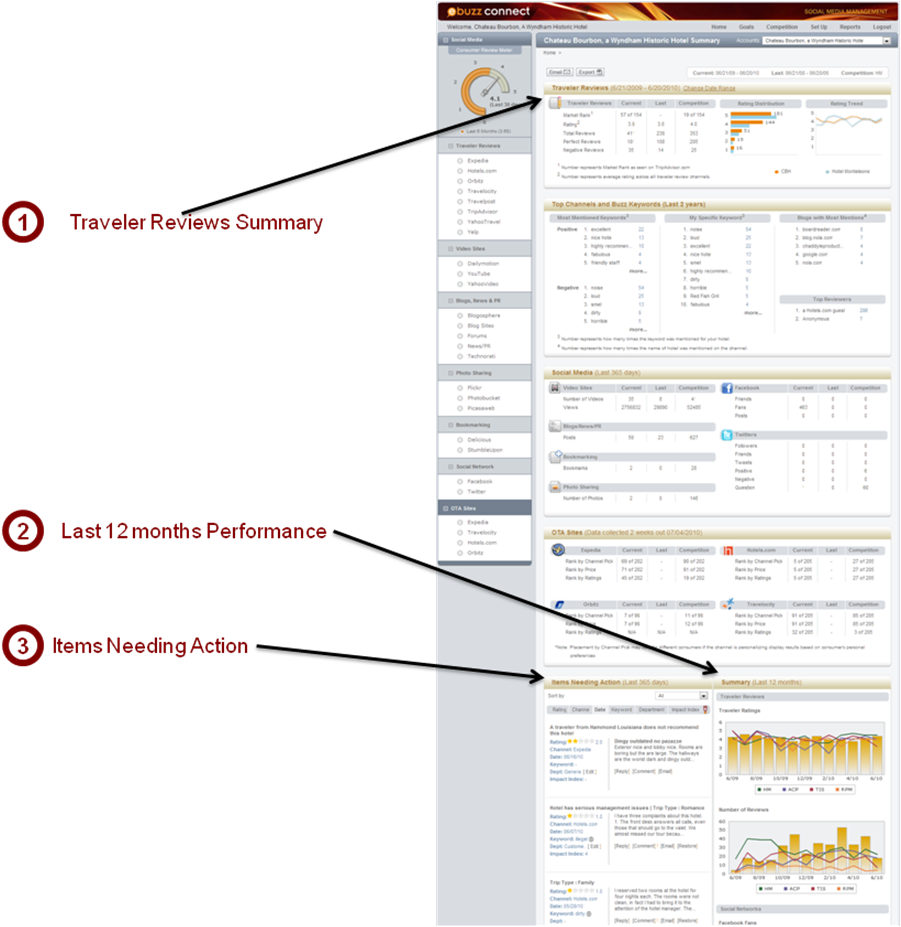 Traveler Reviews Summary:
Chateau Bourbon's general manager spends a few minutes per week on eBuzz ConnectTM to review any new traveler reviews about the hotel and any items needing action. By understanding unsatisfied guests' issues with the hotel, the GM was able to make necessary changes and improvements.

Last 12 Months Performance:
With the hotel's efforts in monitoring and managing their social media, their reviews activity has significantly increased:
Expedia Reviews
33 Reviews in June – Dec 2009 (prior to licensing eBuzz ConnectTM)
133 Reviews Jan – June 2010 (after licensing eBuzz ConnectTM)
Rank by Channel: 1 of 154 hotels

TripAdvisor Reviews:
20 Reviews from June – Dec 2009 (prior to licensing eBuzz ConnectTM)
56 Reviews from January – June 2010 (after licensing eBuzz ConnectTM)
Improved market rank by 9 positions in the last 30 days
Rank by Channel: 57 of 154 hotels

Items Needing Action:
The 'Items Needing Follow Up' section is automatically populated with negative reviews, or reviews in which the hotel receives a star rating of 2 or below. By carefully reviewing these items, the hotel can identify issues from guest experiences and make changes to improve service and conversion. Figure 1 is a sample guest review and the hotel's response. Figure 2 shows a positive comment from a recent guest and the hotel's appreciative response.
Figure 1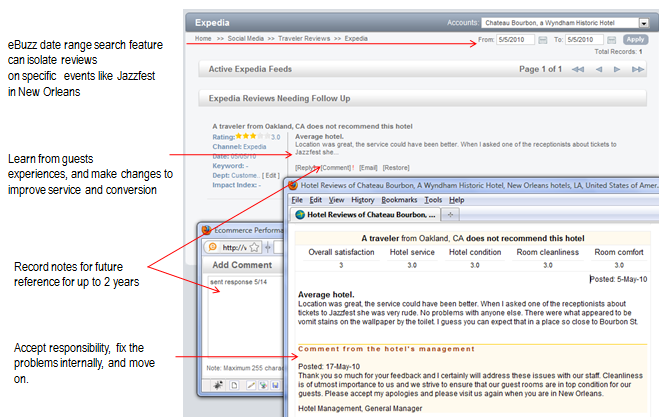 Figure 2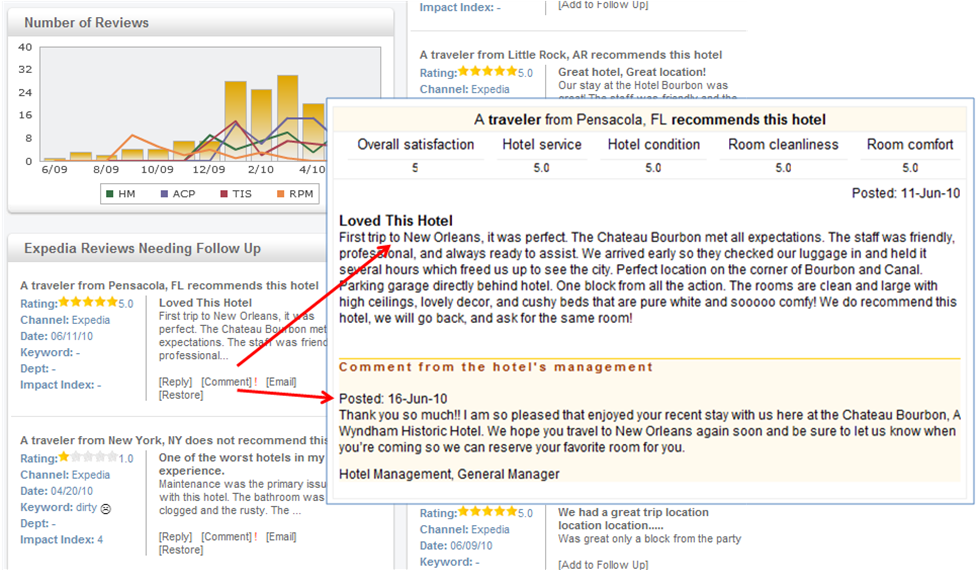 Customized Keywords to Monitor:
The tool also allows the General Manager to customize a library of keywords to monitor. By doing so, the GM is able to monitor what is being mentioned about a restaurant located within the property and track general manager and sales team mentions.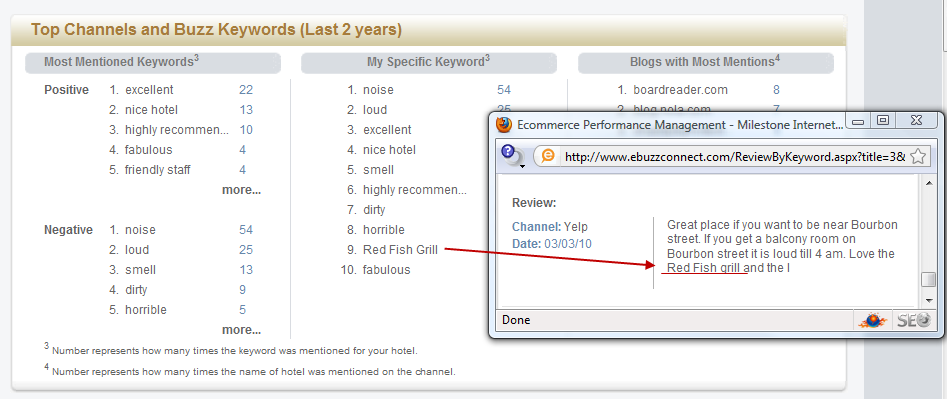 _________________________
Contributed by:
Brad Brewer , Regional Business Development Manager (Central US)
Teresa S. Villaruz, Sales and Marketing Associate