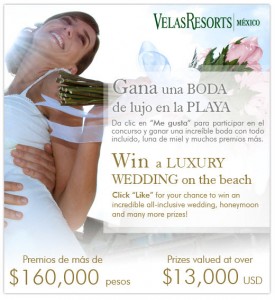 For companies looking to increase their Facebook "Likes," a good solution is to run a contest on Facebook utilizing a "fan gate" option. In order for users to enter the Facebook contest, they have to "like" the page/business before doing so. Not only will this help increase the number of new likes, but as a long-term goal, it can serve as a great way to generate additional conversation surrounding the brand, even after the contest itself is over.
Recently, Velas Resorts ran a wedding contest on Facebook across 5 of its profile pages, the grand prize a dream wedding at one of their properties. The contest timeframe was set for February 14 – April 1, 2011, and allowed users to submit an entry for themselves or friends/family via an email address acquired after "Liking" the Facebook page (on any of their 5 profiles). The end goal for this contest was to increase their Facebook fan base and more importantly, drive traffic to their new niche wedding site & blog. At the end of the one-month submission period, the hotel had received 201 total entries – additional snapshot results listed below (total for all 5 profiles)
6,733 new Facebook "Likes" (203 new likes on the very first day of the contest)
1,649 posts/feedback to various status updates with contest updates
697 new Twitter followers (updates made on 4 property Twitter profiles during contest)
2,687 visits & 4,404 page views to the wedding site blog
3,762 visits & 12,401 page views to the wedding site itself

When frequent postings, responding to user comments and acting as the "voice" for a brand via social media channels/profiles are not enough to keep the Facebook fans increasing at a steady pace, a Facebook contest may be a good solution. It alerts new users to the brand profile with unique offerings and in this case for Velas Resorts, it not only brought in new traffic for their Facebook pages, but also much-desired traffic to their new niche wedding site.
When promoting a Facebook contest, there are a few things to keep in mind:
Determine end goal – this is important so you know how to approach the contest and so you can measure your level of success in the end
Create an appealing offer/prize – while a contest prize doesn't have to be as involved as a wedding, do make it appealing in some way to the users (free t-shirt or % off a stay) and make the entry/voting process easy to implement and user-friendly
Post frequent updates throughout the contest – keep people in the know when it comes to approaching deadlines ("only 2 days left to enter!") by posting frequent status updates and by being as transparent as possible – this will keep the buzz going
Include contest details – make sure to visibly post (and follow) your official contest terms and conditions, so there are no questions about your brand's integrity
Creating and running a Facebook contest with a "fan gate" option is a process that takes planning, organization, creativity and time. However, this is one way a brand can revive the number of "Likes" to their Facebook pages and can jump-start their social media profile across the board.
————————————————————————–
Contributed by: Selin Maurice, eStrategist, Milestone Internet Marketing