This session of PubCon 2009 covered some of the most challenging aspects of social media marketing – measuring ROI and success metrics.
Moderator:
Carolyn Shelby
Speakers:
John Marshall, CTO, Founder, Market Motive
Adam Proehl, Managing Partner, NordicClick Interactive
Dan Zarrella, Viral Marketing Scientist, HubSpot.com
First up was John Marshall of Market Motive, with a presentation titled "Social Media and Web Analytics. Why can't they just get along?"
John started his presentation with the assertion that there is no way to get accurate ROI or even accurate referral data for social marketing campaigns. His data backs up this assertion. His key points:
Many people believe that you don't get referral data if you use a URL shortener. You do get referral data, but if the interaction is inside software like tweetdeck, there is no referrer data. It's the same thing with a link in an RSS feed – if you are click from google reader, then you get a referral, but if you're using a software as a reader, then there is no referral.
For example, if someone clicks on the link below in TweetDeck, the referral will not appear in Google Analytics.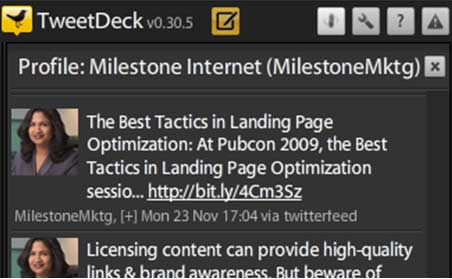 Revenue attribution – social media campaigns won't meaningfully show up with a dollar amount shown in ROI, but that doesn't mean that we shouldn't track.
Your ROI report is not going to be revenue-based. And it's unlikely that we won't be able to ever really track revenue from social media.
One major difference with social media is thatthe customer is not in a buying mode. They are thinking about your product maybe, but lots of different things can result in a click. About 90% of the time the user is going to do another search. John believes the attribution for social media is about 3% which is "pretty poor."
Next up was Adam Proehl of NordicClick Interactive with a presentation focused on understanding the businesses' objectives when getting involved in social media marketing.
The first thing is to understand:

business objectives
customer / prospects objectives
Why do you want to be on twitter or facebook? What's your goal?
What does success look like?

Then, know what to report, when and why.
Some great tools:

Addict-o-matic.com

Whostalkin.com
Sharethis (reporting aspect)
Snip-n-tag (firefox add on)
GA (firefox add on) – tells if google analytics is installed on a page
Better Google analytics (firefox add on)
Enhanced google analytics (firefox add on) – shows any unusual activity
Twitalyzer
Hootsuite

Bit.ly
Outbound link tracking on google analytics
Excellentanalytics (excel plug-in)
The last presenter was Dan Zarrella of Hubspot, with a presentation on using ReTweets as a quality signal.
The number of retweets per follower is the best quality signal.
RT/followers=Retweets per follower
Best of authoritative twitter users retweet your content, which equals a relevance signal. You should also look at keywords around a tweet & link.
Although there isn't a good way to get accurate referral data, or to completely accurately track ROI from social media, there are still some great tools and strategies you can use to get an idea of whether your social media campaigns are performing. Keep in mind your goals with social media when determining which metrics to track.