Players in Real Time Search
The panel was moderated by Danny Sullivan and the speakers in the panel were those who specialize in providing real time search results.
Gerry Campbell: CEO, Collecta
Rishab Aiyer Ghosh: CoFounder & VP, Topsy
Ken Moss:  CEO & co-founder, CrowdEye
Tobias Peggs: GM, OneRiot

First up was Tobias Peggs, GM of OneRiot. He throws light on user behavior that looks for information, which are fresh and relevant. OneRiot Differentiates itself from how twitter works. Platforms like twitter is highly used but with a lot of information being surfaced at a given time. The traditional search engines struggles to provide relevant information and fresh results from various sources. The fashion in which oneriot works is, it crawls all the links which people share on various social platform such as digg, twitter,blogs etc and gives importance to socially relevant filtered content which people will find more informative.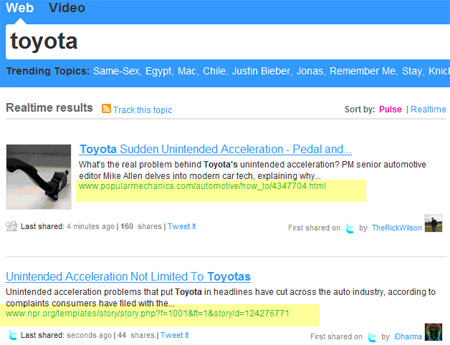 Also he talks about monetizing real-time search on the web with ad space selling. Oneriot is used as a platform for promoting real time search results with real time ads by providing good ads that match to the search from the real time web
Next up was Ken Moss from CrowdEye. He says Twitter is a big deal but chaotic. He emphasizes on the need for good real time search results. His version of traditional search is
Comprehensive – But a Firehose
Fresh – but in seconds!
Relevant – needs new Capabilities
Nice user interface – Unique
Crowdeye uses sophisticated technology to index information on twitter,retweet to help users find what is important to them in real time along with statistical data on the popularity of search which occurred for a given topic at various intervals.
The new perspective that crowdeye brings on to the table are:
By what people where talking in terms of real story
Help find the most relevant tweets
Topics from most popular links, helps explore results
Finally help putting nicely in a great UI (User Interface)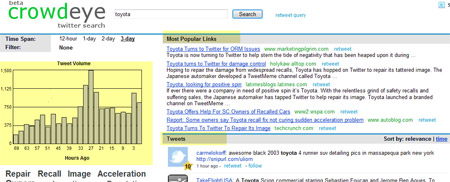 Additional they also offer
Filtered results and Helps sort story by time and relevance
Can categorize based on positive and negative sentiments
Creating customized home page
Next up is Rishab Aiyer Gosh from Topsy. He states the model of web search is changing. It's no longer a network of documents but a network of people. Such as writing a website or contributing to a blog. Live web is a network of people. To help rank this content- Topsy comes into place.
They offer a time window in web search. They also provide relevant image search and puts them in the order of the time such as hour, day, and month for a given topic. Images are indexed based on real time search only.

Lastly, Gerry Campbel spoke about Collecta. The team delivers a generational leap in speed, scale and relevance. All of these from information, navigation and transactional standpoint. Value of information has become very crucial. Collecta filters information based on stories, comments, updates, photos and videos for a given search query.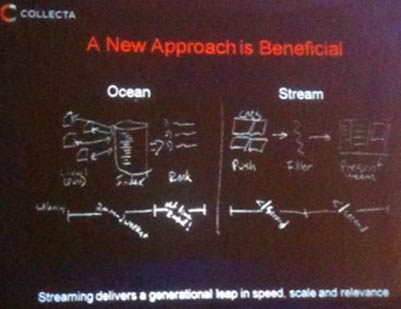 Conclusion: It was interesting to see some of the upcoming providers of real time search and information they offer.
————————————————————————–
Contributed by: Bhuvana Krishnan, Milestone Internet Marketing