This  PubCon session focused on using Twitter for public relations, giving some great tips on how to increase your public relations authority.
Moderator:
Krista Neher
Speakers:
Sean Jackson, CEO/Creator, Ecordia
Lisa Buyer, President/CEO, The Buyer Group
Adam Singer, Account Manager, TopRank Online Marketing
Ben Fisher, President, TechPad Agency
Here's what the pros had to say about Twitter and Public Relations:
Sean Jackson
The first presenter was Sean Jackson of Ecordia who talked about building PR authority on Twitter. There are four things you need to be successful in PR, no matter which media you use:

Clarify
There are some limitations to keep in mind when using Twitter. Specifically, a lot of the content on Twitter (78%) is babble or conversation. 29% of businesses use Twitter to find or request business-related information. Decide if Twitter is really where you should be spending your marketing efforts. Is your audience on twitter? Can you engage with them and sustain that conversation?
Monitor
Monitor search.twitter.com for mentions of your brand name, market terms, competition, including misspellings. You can also monitor for the users' intent by adding additional terms to the search, for example, "need", "want", 'help", "bad", etc.
For example, if you want to find someone who is looking for help with SEO, you might create a query like this: [ SEO OR "search engine optimization" + "need" -http ? ]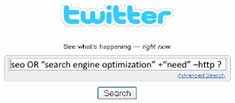 Source: http://www.slideshare.net/Ecordia/experts-on-pr-and-twitter-2486191

Engage
Develop a process, rules and responsibilities around how you will engage on Twitter. The main goal of engagement should be to build authority.
According to Bing, your Twitter authority is determined by the number of followers and retweets you have.
Use Google Alerts to find topics you can write about. Look for:
Lists & reviews
Breaking news
Research
How to guides?
Limited/ exclusive offers
Spread the word via email & reach out to your social networks. Give instructions on HOW to follow users who aren't yet familiar with Twitter.

Advocate
Send out press releases – Tuesday and Friday at 12:30 PM ET or 5 PM ET tend to be the best times to send press releases. Acknowledge users who retweet your posts.
Post on your web presence
Sent out a press release
Unique story about you
Give reasons for someone to follow you
Organize twitter lists
Lisa Buyer
The next presenter  was Lisa Buyer of The Buyer Group. Lisa mentioned a common theme we've consistently been hearing: it's not so much what you say on Twitter, but listening to what is being said.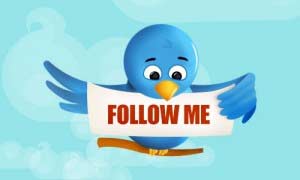 Lisa had a few tips for CEOs on Twitter:
Use twitter to stay current
Engage in thought leadership
Address brand concerns
Sharing & learning
PR pros on Twitter should:
Brand yourself as an expert
Follow & create twitter lists. Create media lists.
Companies should also set guidelines with employees on what can be shared on Twitter and what should not be shared.

Adam Singer
Adam Singer is an account manager at Top Rank Marketing, and he talked about the intersection between social media and PR.
Social Media PR is the intersection of media and influence. Social media for PR should focus on authenticity, long term story telling, and SEO.
Adam's tips for success on Twitter:
Be platform agnostic. Don't focus only on Twitter, but on other social media platforms as well.
Have a destination that will continually draw users back & keep them engaged.
Build a community of advocates – users who will talk about you to their networks.
Social media is a long term commitment. Don't forget about the importance of SEO in social media. Make sure that all of your social media profiles contain your target keywords. Social Media + PR = Links.
Ben Fisher
Up last was Ben Fisher of TechPad who covered "PR, Twitter and Results", and gave some great tools that you can use to measure your success on Twitter.
Ben uses the DECIDE approach:
Determine your goals
Evaluate your competitors & goals
Create an identity
Identify who to follow, such as journalists and freelancers
Develop relationships
Engage
Some tools that Ben recommends
SocialMention.com
PitchEngine.com
Twitalyzer.com
TweetEffect.com
Klout
TwitterAnalyzer.com
The essential message of this session is the importance of listening to your customers & then actively addressing any issues you come across. Approach Twitter like you would any new marketing venture, by deciding goals, assigning resources, training and measuring your results.