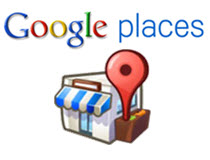 Goal of the Study:
With the increasing importance of local results in the world of SEO, I set out to test and do a case study to see if optimizing a regular claimed Google Places account does in fact make any difference to the site traffic, page views, bounce rates etc. If so, what kind of impact would it have?
The goal was to organically increase the visitors, page views, Places ranking and traffic generated from the Places account to the website, while studying the impact of cross optimizing through various channels: organic, social, paid, and local not only on-page but also off-page optimization.
Actions and Implementation:
After recording the pre-study data, I fully optimized the Places page with relevant information from the site utilizing the best performing organic keywords. I also submitted the photos and videos on various channels; monitored the reviews; performed local link building efforts; and made the name, address and phone number consistent across all channels. Lastly, I enhanced the on-page factors of the website to match the Places page.
Results:
Results were monitored for a month and data was compared to the previous month before optimization.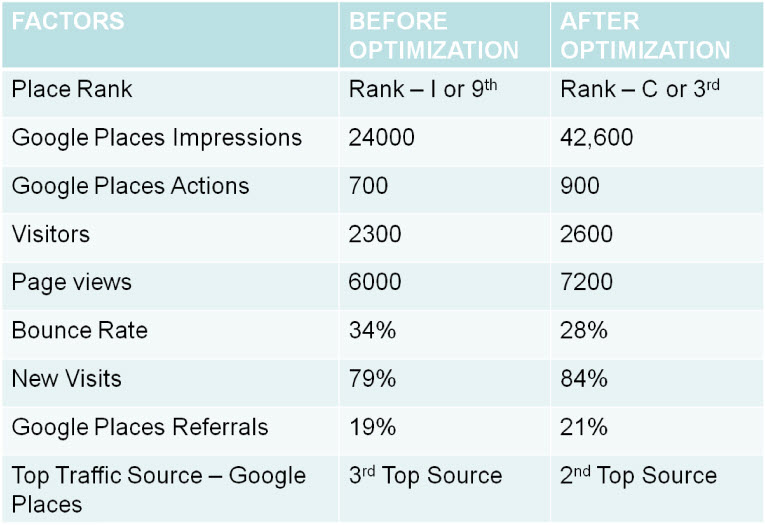 Conclusion:
In just 30 days, the client jumped in ranking from the 9th position to the 3rd position in Google local results. On a month-to-month comparison, the hotel received these astounding results:
The hotel has seen an increase of over 18,000 Google local impressions;
Google places actions increased by 200;
Hotel website received 300 more visitors and 1200 more page views;
Website bounce-rate reduced by 6%;
New unique visitors increased by 5%;
Above all they have a fully optimized and cross channelized local, social and organic campaign that will continue to bring great results month over month.
————————————————————————–
Study conducted and contributed by: Bhawna Sharma, Sr. E-Strategist, Milestone Internet Marketing