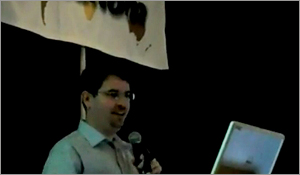 Matt Cuts Introduces Googles new
Friend Connect in PubCon, 2009
What is Friend Connect?
Google's Friend Connect allows anyone to sign into a website to connect with other users.
How Does it Work?
Choose a widget from Google's social media library and add the code to your website. No programming is necessary. Your visitors can then join your site at a click of a button. Instead of creating a brand new login for your site, the visitors can use an existing Google, Yahoo, AOL, or Open ID account.
Why use it?
Adding social media features to your website increases traffic and depth to the site. The ease of interaction will allow more people to leave comments and intermingle. More content will lead to more indexes and impressions! Friend Connect widget codes can be added to blogs, fan sites, merchant sites, mash-ups, and more.
In conclusion, Google's Friend Connect is a user friendly API that allows users on websites to connect more deeply with each other. Friend Connect eliminates the need of creating a new login to join a website. Adding this can help your website increase its content, traffic and impressions.