Google´s Insight to Social & Personalized Search
The last session of Day 1 at SMX West focused primarily on changes to Google's social search results. You may have already noticed the alteration in your search query results without even opting into any updates. This is because you are participating in Google's social experiment! The audience was anxious to find out how all of this will affect traditional SEO.
Up first to present was Johanna Wright, Product Manager from Google, Inc.
According to Johanna, social search is visible personalization that you can understand. It's the most visible thing that users can see within personalized search. It's all about the relevancy for the user, serendipity of starting a conversation, wondering what all the hype is about, and news close to home.
What Does It Mean For SEO?
Keep building great sites.
Keep following the Webmaster Guidelines.
Interpret Social Graph API tags. http://code.google.com/apis/socialgraph/faq.html
Use Webmaster tools to make sure Google is indexing your site well.
Search for [Google social search help]
The Second Presenter was Kerry Dean, Range Online Media
Kerry is a supporter of Google Profile and its initiatives. He advises that this is an opportunity for free traffic.
The Core Elements of a Social Campaign
Teamwork: Create a social media team. Assign channels and specialties.
Strategy: Find the appropriate sites for your brands
Content: Develop a content strategy
Tracking: Determine which channels are performing.
"Social search can drive a lot of traffic for client who may not be ranking organically, but who will show up in social search."
More opportunities for Free Traffic: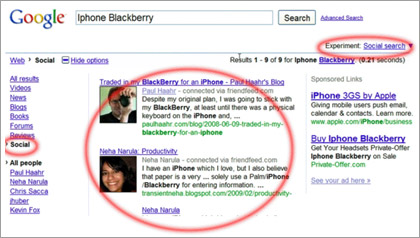 Universal Search
Real time search
Social media
Mobile web
Where are we now?
Hop on the bandwagon. Start with a Google Profile (www.google.com/profiles)
Add information about yourself, your links, pictures, buzz
Make Friends
New Ranking Signals for Social Search
Relevance and author of source
Correlated signal from multiple sources
Rate of mentions
Changes in attention flow
User Behavior
Location
Events
Kerry Recommendations the following social profiles:
Google Profile
Yahoo Profile
Live Profile
Facebook fan page
Twitter
YouTube
Flickr & Picasa
Myspace
FriendFeed
Last but not least, Adam Sherk, Define Search Strategies (NY Times)
Adam pointed out that Google Social Search in not formally set up for brands. There is no corporate structure… YET. Google Buzz is making the concept of having a Google Profile for a business more feasible.
The ultimate question remains: Does Google want brands and news in the social circle? Or do they want to keep it strictly within family and friends? Johanna from Google chimed in to remind the audience that Social Search is still in Beta. For now, Social Search is about people and not brands. We shall see!
————————————————————————–
Contributed by: Mariko Kato, Milestone Internet Marketing