1. BACKGROUND
Velas Resorts is a group of four luxury resorts in Mexico. Each property resembles a tranquil tropical oasis that combines distinctive services with a romantic coastal atmosphere. Furthermore, each property features a world class spa, five-star service, and gorgeous settings – making each property a perfect location to host a wedding. The group has accommodated many wedding parties over the years, which brought the opportunity of driving wedding businesses to the properties by aggressively targeting this niche market.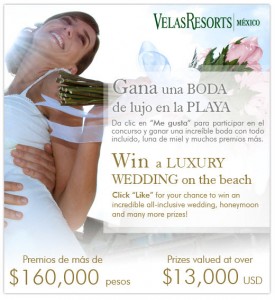 The Velas Resort Group has been a client of Milestone for years and sought Milestone's help in creating an online strategy to further maximize the group's wedding revenue with the use of online technologies and an innovative marketing plan. Milestone then developed an award-winning wedding website and implemented several search and social media marketing strategies that performed well beyond expectations.
2. STRATEGY
Milestone's strategy comprised of a holistic marketing approach optimizing all channels available on the Internet.  Key components of the marketing plan for Velas Resorts' wedding website include:
On-page optimization
Organic promotion
Local promotion
Paid search
Social media marketing
Email marketing
Return on investment tracking
Cross-channel marketing and optimization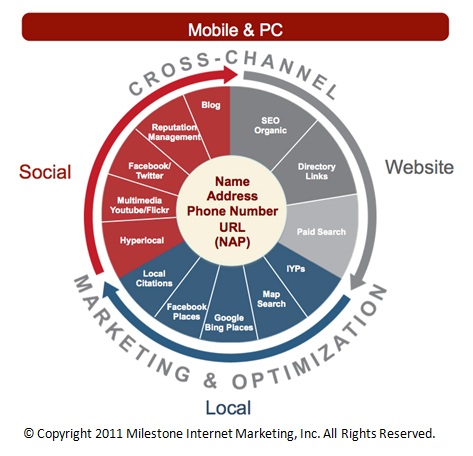 Step 1: Develop and optimize the central hub of information
Milestone developed a "Luxury Weddings" themed website to highlight the group's luxurious wedding offerings, from lavish all-inclusive amenities to their world class hospitality. On the back-end, Milestone optimized the site following sophisticated search engine guidelines, allowing for the website to be indexed by major and local search engines and appear for relative terms people are searching for in the surrounding markets, especially terms on wedding planning, romantic getaways, honeymoon, etc. This step includes:
Conduct keyword research – based on the locations and other demand generators in the market.
Create search engine optimized content – each webpage of the wedding site is focused on a unique keyword theme, serving as virtual sales people on the internet each selling into a different market segment.
Website search engine optimization – use several unique strategies to develop keyword-rich meta-tags for all the pages of the website, resulting in high SERP rankings.
Website design and programming – using the latest Google webmaster and SEO guidelines to develop the website.
Step 2: Implementation of web 2.0 techniques
Incorporating several web 2.0 features to stay atop of the growing online tech trends is a must-do in today's online strategy. Milestone integrated several social and web 2.0 features on the Velas Resorts Wedding site including a weddings themed blog, customer reviews module, optimized online videos and photos, integration of social media channels, etc., which help increase freshness and engagement factors leading to enhanced web and search performance.
Step 3: Strategic online marketing – cross-channel marketing
Once the on-page SEO was implemented on the site and blog, Milestone enrolled the website in major search engines such as Google, Yahoo!, Bing, and other local search engines.  Furthermore, with the Web making a shift from ranking documents and pages, towards a new structure built around people, Milestone developed a marketing strategy that has been reoriented around the social behavior of customers and understanding how couples and wedding planners connect with Velas Resorts. Our marketing strategy evolved from keyword rankings, to total saturation of social, local, and mobile (SoLoMo) channels to connect with consumers as they're doing their research earlier in the buying cycle. Milestone learned where consumers (in this case, couples, wedding planners, honeymooners, etc.) are connecting and interacting, and created a unique and custom marketing plan to saturate the channels. Milestone then determined trending keywords, tapped into active user conversations, and cross fertilized messages about weddings, honeymoons, romantic getaways, and Velas Resorts' unique selling points.
Step 4: Social Media Campaign
Milestone and the Velas Resort Group ran a wedding contest on Facebook across 5 of its profile pages. The grand prize offered was a dream wedding at one of their luxurious properties. The contest ran for 3 months (Feb – Apr 2011) and allowed users to submit an entry for themselves or friends/family via an email address acquired after "Liking" any of the group's five Facebook pages. The goal for this contest was to increase the group's Facebook fan base and more importantly, drive traffic to their new wedding website and blog.
3. RESULTS
The overall strategy, from the development of the wedding website to the end of the Facebook contest campaign, Velas Resorts Group saw the following results:
Over 200 contest entries received
6,733 new Facebook "Likes" (distributed among the 5 profile pages)
1,650 posts and feedback to various status updates regarding the contest
697 new Twitter followers (distributed among 4 property Twitter profiles)
2,690 visitors and 4,400 page views to the wedding blogsite
3,762 visitors and 12,400 page views to the wedding website
In the 3 months the social media campaign ran, the hotel group generated over $1.5 million in total combined online revenue for the 4 properties.

4. SUMMARY
Search engine marketing is changing rapidly as social media continues to grow in significance. What previously worked well for search engine optimization (SEO) – relevant content, keyword rich meta-tags, and relevant in-bound links – is not enough for high rankings on search engines. In 2001, the main online channels consisted of paid search and organic search.  Fast-forward to 2012, the main online channels include: paid and organic search, plus local, image, video, map, social media, and news search, with an additional focus on mobile devices.  The search engine's intent is to present the best result to the consumer that is relevant to their query.
As local factors, search history, social interactions, and semantic meaning start to influence search results, it's critical for hotels and businesses to focus on a holistic approach to online marketing – on-page search engine optimization, website, local, maps, social media, paid, etc. By integrating all of these components into one holistic strategy rather than developing individual marketing plans on each component in a vacuum, the end result is a marketing campaign that reaches more users, encourages more engagement, and ultimately drives higher return on investment.
________________________________
Contributed by:
Teresa Villaruz, Sr. Marketing Specialist
Selin Maurice, eStrategist
Milestone Internet Marketing