Analytics is very important to analyze measure and track the performance of online marketing efforts.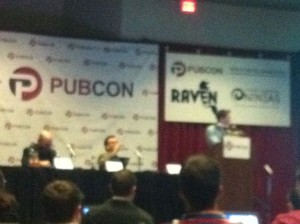 What are we measuring now?
Heads – Followers, Friends, Fans etc
Paces – Posts, Tweets, Updates, etc.
Victory – ROI, Revenue, Conversions
Tools of today to measure social marketing efforts –
Klout
Twittalyzer
Peerindex
Webtrends
Radian
Some of the tips to measure social efforts –
Tag campaigns to measure social campaigns
Use url shortner like bit.ly to track tweets etc.
Correlate changes in traffic
Has the number of references increased
Conclusion:
Use right analytic tools, to measure the success the online marketing efforts especially social campaigns, which can help you track all the metrics you need to make smart decisions for your business.
Speakers: Tom Critchlow, Alan K'necht
Moderator: Mark Knowles
Contributed by – Justin Varghese, ROI Manager, Milestone Internet Marketing Inc.