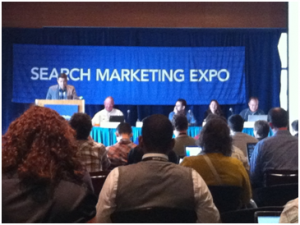 In the "Overlooked, Underloved & Unknown Analytics" SMX Advanced Seattle 2011 session, the panelists discuss the top lesser-known/latest analytics reporting tools & strategies to effectively measure conversion in search marketing campaigns. A few key points from the speakers:
Madan Bharadwaj, Visual IQ: When trying to determine the level of conversion intent in users, Madan says to analyze & optimize the entire experience, as the behavior of users who click on display ads (push medium) differ from those who click on search (pull medium).
Khalid Saleh, Invesp: Khalid stresses that the key to the conversion rate optimization (CRO) is to have a structured approach: plan your starting point, implement the optimization strategy and in turn, improve the interaction experience. Even if a certain page sees an increase in conversion rates, that doesn't translate to the overall site conversion rate – one must still look at the complete picture.
Allison Hartsoe, Semphonic: Allison reviews the extra "hidden data dimensions" in both Google Analytics and Omniture/Site Catalyst, explaining that both tools allow for additional visibility to reports, an important feature for all marketers.
Phil Mui, Google: The biggest announcements coming from Google's representative pertain to Google +1 and Google Webmasters. Both features will be trackable/visible within Google Analytics tools, helping the overall user experience.
With so many analytics reports available to marketers nowadays, knowing which reporting options are available – outside of the standard tools – can be very helpful in determining a search marketing campaign focus. More specifically, knowing the important items to look for in advanced analytics is key.
While advanced analytics can be tricky and requires analysis from many different angles, Khalid mentions a few key items to begin the focus:
pre-product page abandonment rate (goal is to keep this <25% & increase flow)

# of visitors who make their way to the product page/total visitors

bounce around effect (want to see <20% bounce rate)

# of visitors who navigate to a parent category/total visitors who land on category

product page effectiveness rate (aim for rate of 10%-15%)

# of visitors who click on the add to cart button/total visitors who visit product page (the higher the average order value, the more people will hesitate)
All analytics tools have their own reporting details that allow for a search marketing campaign to be fully comprehensive. While these reports are constantly evolving, the insights they offer will also continue to transform, giving marketers even more information in the future.
Speakers:
Madan Bharadwaj, Vice President, Visual IQ
Allison Hartsoe, VP Analytics, Semphonic
Phil Mui, Group Product Manager, Google
Khalid Saleh, President, Invesp
————————————————————————–
Contributed by: Selin Maurice, Sr. Account Manager/eStrategist, Milestone Internet Marketing