What?
Ranking locally is much more critical with the evolvement of local listings across the web such as Google Places, Bing BBP, Yahoo local and the various social media channels. Google Places seems to consistently drive more traffic than any other local channel, sometimes upwards of 40% share of referring traffic for many of our clients.
Why?
Google has 65% market share at the moment, making Google Places the most important local listing to focus your attention on. This should be followed by Bing & Yahoo.
In October, Google updated their SERPs to showcase local listings alongside your organic result making your local listing that much more important. It's now absolutely crucial to have your local listing 100% optimized and in sync with your on page/off page website strategy as well.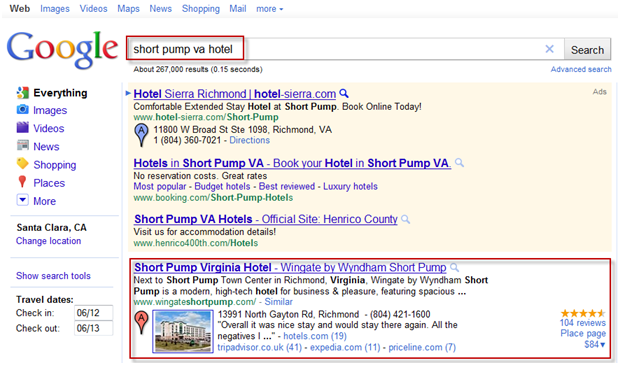 How?
So what can you do to improve your chances of ranking well locally? Below are the top 10 things you can do to improve your chances of ranking high and converting traffic from your Google local listings.
On-page optimization: Use the correct geo-location in all on-page optimization. Do not use the geo-location that you would like to rank for. For example, if you are located in Sunnyvale, you should use "Sunnyvale hotel" and not "Santa Clara hotel". Its fine to use "Hotel near Santa Clara" but to state "Santa Clara Hotel" would not be accurate or helpful to your local strategy.
Local Submissions: Submit your website/business information to local data providers such as Acxiom, InfoUsa and Localeze. These data providers will feed your business information across the web to other business information channels, helping you build credibility across the web. In the long run, local submissions help you gain more local relevance and trust with the search engines and public users.  It is critical to ensure your business information on your website is accurate and consistent across all of these sources. Incorrect business information will result in distrust from search engines and the public, and will negatively impact your local ranking and conversion.
Claim Google Places listings:  The ability to optimize your listing is only possible once it is claimed and verified by you, the owner. This is a great way for you to control the information about your business.
Optimize Your Local Listing Account to 100%:  Ensure each of the below buckets are optimized and completed.

Correct business information: Ensure name, address, and phone number  (NAP) on listing & website is correct.
Categories: this is how Google knows what type of business you are.
Hours of Operation
Photos
Videos
Additional Details
Update Place Page: Promote specials or events with specific calls to action
Google Reviews Management Response: Respond to Google reviews via your Google Places account.

Encourage Online Reviews:  Online reviews play into the local ranking algorithm. It's not so much about the amount of reviews your hotel receives, but the quality of your reviews.  Research which third party review sites are important to your industry/location and target those first. Don't forget to encourage online reviews directly via your website as well. Google can now index your website reviews and pull them into your local listing. The more reviews, the better!
Respond to reviews:  Doing so can help build/improve your hotel's online reputation as it shows that management places great importance on customer service and satisfaction. Not only will this result in higher trust, but it can also lead to return visitors/guests.
Build citations from credible/authoritative sources:  Online citations for your business are the equivalent to online referrals for your website.  Citations are not links necessarily, but can be simple mentions of your NAP.  The more credible online citation sources you accumulate, the more likely it is that your Google local listing will rank well.
Claim Hyperlocal listings:   It's important to claim your Facebook Places, Foursquare, and Gowalla listings. Hyperlocal listings give you local credibility, allow you to gain local relevance, and help you build a stronger local community following.
Ensure you cross-optimize and apply what works on your site to your Places Local Listing:

Promote successful packages
Promote most viewed/converting pages
Promote Social Media channels

Google Boost: Participate in Google Boost to get some early traction to your local listing.  You cannot control which keywords you appear for but it's a great way to gain some additional exposure.
Conclusion
There is no doubt that local strategy has grown to be much more critical than in the past and your Google Places listing is a great place to begin optimization.   However, make sure you optimize correctly, strategically, and effectively across all buckets for a comprehensive local marketing strategy. It's the only way to win the local game in the long run.
Sources:
GetListed.org: http://getlisted.org/
David Mihm Blog: http://www.davidmihm.com/local-search-ranking-factors.shtml
The Official Google Blog: http://googleblog.blogspot.com/2010/12/being-bad-to-your-customers-is-bad-for.html
————————————————————————–
Contributed by: Zulema Romero, Sr. Account Manager/eStrategist, Milestone Internet Marketing