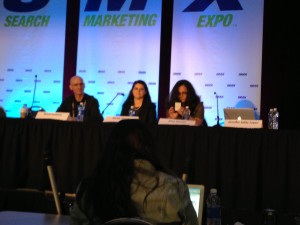 With all of the new social media sites popping up on an almost daily basis, combined with the need to be creating regularly, quality content on those sites, staying on top of social marketing can be a challenge. There are dozens of tools online aimed at helping automate and streamline the process of socializing, but the savings in time can come at the cost of quality or impact. This session at SMX West 2013 explores the ups and downs of social media automation.
Why automate your socializing?
Build relationships without being on social sites 24/7
Establish yourself as a thought leader in your niche
Get people to talk about your brand
Some tools have good analytics to help focus on success
What are some downsides of automating?
Less control over what you post (if you directly publish somebody else's RSS feed to your social channels)
Can come off as looking inauthentic
Can build expectations that somebody from your brand is there 24/7 to answer questions
Some networks (like Facebook) reduce the visibility of posts made through automation tools
Key takeaway: Use automation tools to help manage and curate, but keep the human touch in your social marketing efforts.
The focus from all of the panelists was using automation tools as a guide or an assistant, not as a replacement. Staying active and fresh can take a lot of time, but when used properly, automation tools can have a positive impact on the quality and reach of your social marketing.
Below are a few recommended tools:
Tools
Panelists:
Nicole Munoz, CEO and Founder, Start Ranking Now, Inc. (@nicolemunoz)
Amy Vernon, GM, Social Marketing, Internet Media Labs (@amyvernon)
Brent Csutoras, Social Media Consultant, Kairay Media (@brentcsutoras)
_____________________________________
Contributed by:
Mike Supple, Sr. Social Media Manager