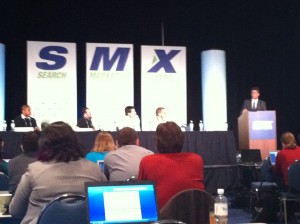 Google Instant was introduced about 6 months ago, and at that time there was much apprehension about its impact on search results. At this point many people still have mixed feelings surrounding the feature and its reliability factor. Speakers in the SMX West session "Google Instant: 6 Months Later" provided insight into the impact on overall search results and on paid marketing.
Othar Hansson – from Google – spoke on the importance of a few items when they rolled out Google Instant.
Speed an important factor

Google goal to minimize time from search query to final selection of results

Idea is to be intuitive and more accurate for users

It's all about providing a good search experience for the user

About 98% of people use Google Instant feature
Avi Wilensky – representing Promediacorp – briefly discussed a real-case scenario where Google Instant seemed to have a negative impact on a small business client, as it brought negative comments to his reputation. Avi's presentation takeaways:
Google Instant is much more sensitive to what people type than compared to regular search results
Auto-fill suggestions may not be as accurate as Google claims.

Example: To prove the disparity between the suggestion box and the actual results, he typed in "seo is" and we saw a few results that included "is a sham" (while the actual results, once you selected that as your final term, included other words that changed the original direction)
Erez Barak – from Optify – spoke about B2B and B2C web traffic data his company compiled regarding Google Instant from some company case studies. His findings:
Predictions/auto fill are based on local and personalized terms (and those terms that are popular and recent/trending at the moment – forever changing to be relevant)
Keyword density has not really changed – a small number of customers are being affected by Instant

Long-tailed keywords are still coming in

The user's point of view supports his thoughts that predictions are NOT the most popular terms and that keyword density has not changed significantly
Anthony Coleman – from Search Influence – touched upon paid search and the impact from Google Instant. His suggestions for better impact included:
Using alternate spellings so you hit all different search query possibilities
Target multiple locations, not just metro areas (since Instant seems to negatively impact geo modifiers and long keywords because results take current location into play)
Different viewpoints surrounding Google Instant existed in the beginning and still do, apparent in the great panel discussion in today's SMX West session. This will be a great feature to continue to monitor in the next 6 months.
Speakers:
Erez Barak, VP of Product, Optify
Anthony Coleman, Paid Search Manager, Search Influence
Othar Hansson, Senior Staff Software Engineer, Google
Avi Wilensky, CEO, Promediacorp
————————————————————————–
Contributed by: Selin Maurice, eStrategist, Milestone Internet Marketing