This past month Google has announced two great new features to access through Google Analytics and Webmaster Central: Social Engagement tracking and in depth mobile reporting.
With the recent growth in mobile traffic, the +1 release and talk of Google's new social network, The Google + Project, Google Analytics is now giving us a way to track how this is improving and affecting our website. They are not only giving in depth reporting on +1 and social metrics, but have also improved the mobile reporting currently accessible through Google Analytics so users can begin to analyze how these new metrics affect our websites and traffic.
Mobile: Mobile tracking has been released across all new versions of Google Analytics accounts, and you can now view two new reports to help analyze mobile traffic to your site:
Overview Report – mobile traffic vs. non-mobile traffic

Devices Report – breakdown of each device being used to view your website and an image of the device used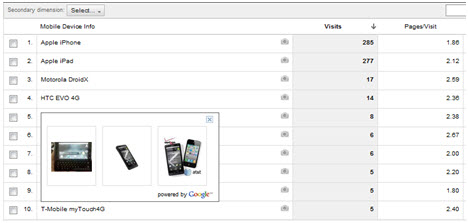 Social Engagement: The social engagement report is available in the new version of Google Analytics and will populate +1 metrics automatically when a +1 button is added to the website. This new report allows users to track social actions, pages and engagement across the website and search results.
Social Engagement Report: populates social actions (+1 or like button clicks). You can use this to analyze user behavior, for example, how long social action users stay on the site and interact versus those who do not interact with the social actions.

Social Actions Report: Overview of the number of +1 clicks, tweets, likes and other social actions taken on your website

Social Pages Report: Overview of which pages have the most social interactions, +1's and likes so you can see which are most popular with visitors.
The popularity of social and mobile is growing quickly, and we have an opportunity through analytics to not only see how this is affecting our website, but also dig deep into user behavior and how people are interacting with our site. This gives us the ability use this information to make improvements and gain more traffic in relevancy in search.
————————————————————————–
Contributed by: Meagan Hasenoehrl, e-Strategist, Milestone Internet Marketing