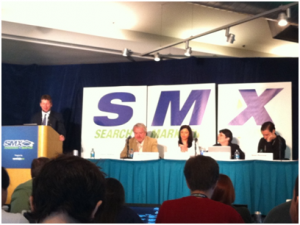 While Twitter is becoming an even more powerful social media tool by showing up in regular search results, many companies do not understand how to set up a proper strategy. A few of the key takeaways from the "Yes, Virginia, Tweeting is SEO" session panel speakers at SMX Advanced Seattle 2011 help to outline a strategy:
Michael Hayward, ROI Labs: Establishing an online presence via Twitter is a necessity, as evidenced by a successful Four Seasons case study. By pointing to articles/stories in their newly-established online magazine on Twitter, Four Seasons saw a 50% increase in organic search volume and an overall increase in ranking for non-travel terms.
Jennifer Lopez, SEOmoz: Think about content, make it shareable and don't forget to optimize.  A great way to ensure people follow your tweets is to post the same message 2x a day, as many may miss your first message. The 1st tweet title should start with "new blog post (title)" – trends show this title format gets the most re-tweets.
Sean Percival, MySpace: When trying to build excitement for an upcoming event, post a tweet about a week before to build up buzz, not a day or two before the event – there is already too much noise around the topic & your tweets may not be seen.
With its newfound visibility in regular search results, the Twitter platform can help a brand establish their online presence. Without this, brands miss out on a key segment of their market and the chance to find new brand loyalists.
According to Jennifer Lopez, to ensure the proper utilization of a Twitter strategy, it's very important to implement the following tips within an organization:
Talk to each other – training is key, so don't keep each team in your company separate; work together.
Share your data – to help portray the importance of cross-optimization, data sharing is crucial to sharing what is working/what needs to be improved/what focus should be. (Example: look at Google Analytics – if a page is losing rank/popularity, utilize social media and focus on that page in strategy.)
Utilize multiple tools – for trending and analytics tracking, some of the suggested Twitter tools include:
The importance of Twitter is now even more apparent for brands, as regular search results have begun to incorporate this information for its users. Establishing a strong Twitter strategy can help take a brand to the next level and uncover influential hidden followers, both in the social and organic online world.
Speakers:
Michael Hayward, CEO, ROI Labs
Jennifer Lopez, Community Manager, SEOmoz
Sean Percival, Vice President, Online Marketing, MySpace
Elle Shelley, VP Social Media, Zog Media
————————————————————————–
Contributed by: Selin Maurice, Sr. Account Manager/eStrategist, Milestone Internet Marketing