Choosing the right tools to use with Twitter
The sheer number of tools and apps that have been created to work with Twitter is staggering. Picking the right tools can have a positive impact on how you interact with Twitter. At the 2010 PubCon "Advanced Twitter" session in Las Vegas, Brian Breslin (@brianbreslin) and Dan Zarrella (@danzarrella) gave their insights on some of the best tools available right now.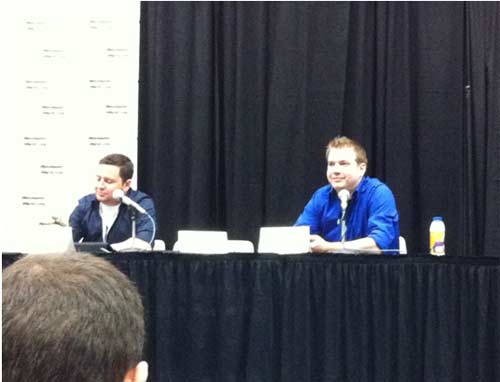 How can you use Twitter like a pro? (If there is such a thing.) Define your objectives:
listen to your customers
engage them
connect and grow your audience
There is no one tool for all of these things, but there are many tools that tackle each one.
Best tools for listening on the web
assistly.com – one of best for pure customer service – creates tickets
Cotweet.com – group collaboration
Rowfeeder.com – aggregates feeds into excel spreadsheets
Hootsuite.com – multiple account management, scheduling updates
Best tools for listening on the go
Twitter for iPhone or iPad
Twitterific or tweetdeck for iPad
Ubertwitter on blackberry
twidroyd.com or twitter on android
Boxcar for iphone/ipad – push notification system for any number of feeds – $2 per account tracking
Best tools for engaging
hootsuite
sharefeed -schedule tweets
CoTweet
Assistly.com / Getsatisfaction
Disqus – brings twitter discussions into your blog comments
Best tools for growing
Socialtoo.com (auto follow, unfollow bulk, block auto-DMs)
tweethopper.com (simple bots)
manageflitter.com (unfollow your non-followers) – random person said to use plugin CheckFox with it to have it automatically check the boxes to follow/unfollow
MrTweet
Beware of shady "get followers fast tools" don't use tools that get bot followers – grow organically – what use is having 10,000 followers if they won't RT, won't engage, and won't PURCHASE
There are a variety of tools available to help you listen to, engage with and expand your followers. As Twitter grows, they are purchasing and incorporating more of these tools directly into their own programming. To stay on top of the best tools that can give you the biggest social reach, pay attention to what Twitter buys, and focus on those tools.
————————————————————————–
Contributed by: Mike Supple, Milestone Internet Marketing