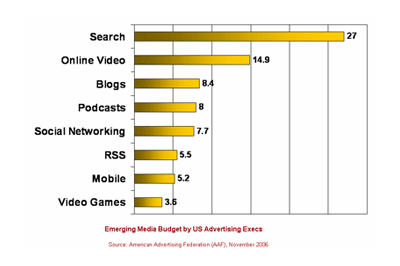 It is evident that Web 2.0 initiatives are changing the way all industries operate today. The chart below shows the overall spending by US marketing executives on the next generation of internet marketing technologies. As far as early adoption goes, the travel industry is lagging other major industries in investing in and taking advantage of these Web 2.0 tools. Eventually, most of these technologies will find their way into the travel industry, given that travel is in the top 3 market segments on the internet.
In our opinion, one of the reasons that the travel and lodging industry is not the leading adopter is because the industry is very focused on ROI. With many of these new initiatives, the ROI is not clear until after the technology has reached critical mass consumption. Given this pattern, we predict that over the next two years, the travel industry will find increasing usage of many of these technologies. One way to stand out against your competitors today is to take advantage of these tools and start incorporating them into your marketing plans. Make sure there is allocation for some of the Web 2.0 initiatives in your next budget.
——————————————————————————–
Article contributed by Kimberly Ehrlich, Milestone Internet Marketing.