by Mike Supple, Sr. Social Media Manager, Milestone Internet Marketing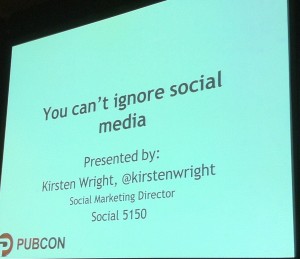 Social media is significantly more effective when it is approached as an integrated part of an overall marketing plan, rather than handled as an offshoot with its own life. This PubCon Las Vegas session explores the three main concepts of combining social media with traditional marketing: why, strategy and execution.
Why combine social with traditional marketing?
Today when a user has a good experience he has many options to share or enhance the experience: check in on Foursquare, follow or mention the brand on Twitter, fan the brand on Facebook, etc. Based on what that user sees upon finding you online, is there a reason that user would want to connect with you? Do you provide a value, service or incentive? And if you don't have a social presence at all, then you are missing your connection opportunity.
Strategies
Audience: understand who they are and identify the tastemakers or influencers
Objective: what do you want to accomplish? i.e. Build a community, drive sales, customer service, increase engagement, create loyaly
Reach: where do your customers congregate, and what is the voice of that channel?
Approach: define a strategy that allows you to stand out and build relationships – do something different
Execution
If people are already at your place of business, then they are clearly interested in you. You can push (or incentivize) them to take that interest to social media.
Create signs
Ask people to join all your networks
Give them a reason to connect with you (incentivize)
Make it easy for people to find you: don't just put the Twitter icon on a sign, include your @name
Place your signs
Where do customers naturally pause at your business?
Where do they generally gaze while standing around? (Think windows, door mats.)
Is there a quiet area where people often make cell phone calls? (Phones are out and ready for action.)
Verbal communication
You have real people at your business – get them to connect directly. Train your employees to ask customers to connect with you. Make mentioning social channels part of welcome speeches, thank yous and goodbyes.
Incentivize
The prize value must be proportional to the effort required
Allow incentives to build on each other for each action completed: lead the user to continue engaging
Make prizes relevant to a majority of your target audience
The people who work for you can be your biggest asset. Customers like interaction and being recognized, so take that real world training and apply it to your social media marketing strategies. Customers are people too, and they want to be heard!
Speakers:
Kirsten Wright
Jonathan Munk
Danielle Glick