by John Pol, E-Strategist, Milestone Internet Marketing
You have a blog that has become a bit stale. Your intuition tells you there's greater value in it then you're currently receiving – and you're probably right!
But what else can be done to engage visitors?
Before discussing increasing 'Blog Stickiness,' make sure you've covered the foundation; the 'fundamentals' so to speak:
Define the objectives of the blog
Establish a team of contributing authors
Create a writing schedule & idea funnel
Perform keyword research on your topics
Optimize the page, title and meta tags with the keywords (SEO)
Use time sensitive topics and relevant trends
3 T's (Test, Track & Tweak)
Alright, MISSION COMPLETE! Now what? You can encourage visitors to read and interact more:
Create or Write a Series
If the visitor found your post entertaining or interesting, this will increase page views and repeat visits.
Add Descriptive Introductions to Your Articles
You must create a captivating hook to engage your readers to continue to read. If not, they may just leave.
Showcase Older Posts
Re-engage interest in previous hot topics and influence readers to read more of your archived content.
Link to Other Posts Within Your Articles
Several posts are short and quick. By linking to older posts through anchor text, you are allowing your reader to explore subjects in greater depth.
Link to Related Posts
If the visitor has found value in your content, allow these quick links placed beneath the post makes continuing to absorb content on your blog easy! (This is often a simple plugin feature.)
Build a Page That Shows Additional Articles
These pages allow visitors to quickly view information in an organized way. Some examples of these categories are: Most Views, Most Likes, Most Tweets, etc.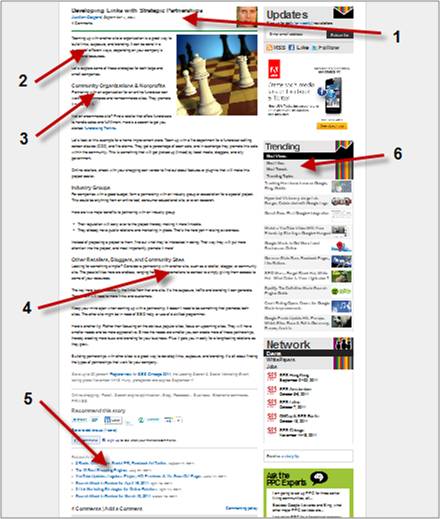 Why go through the trouble of engaging visitors?
Well, first of all, SEO and traffic isn't enough to create long term value. If your visitors aren't receiving value from your content then they will choose to leave and may never return! To get the greatest return on the investment (time and money) of your blog, you need continuous engagement, creating long-term value. By constantly delivering value you become the authority source in your industry or niche. This is the type of strategy that creates a loyal following of evangelists!
Your readers will grow to anticipate your next post. They will be eager to hear what you have to say. Also, they will share your information with their friends, family and network….it becomes viral! Remember, content is king! Build a blog with valuable content and they will come. And better yet, they will come back again and again.