While travelers often take into account their experience with and awareness of a brand when choosing a hotel, it's clear that people travel to destinations for events, activities, and attractions first and foremost. The challenge for hotels then becomes targeting and capturing this variety of travelers – the quick solution to this challenge is to write a well developed blog post about it. Blogs are a great way to drive traffic from organic search and social channels, engage users, and personify your brand message.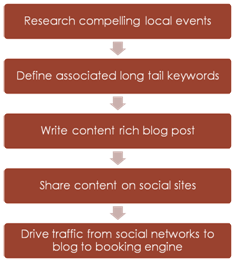 The Case: During this past March, there was a significant amount of buzz generated around St. Patrick's Day events being held across the country.  An upscale hotel in Chicago successfully targeted and leveraged St. Patrick's Day as a key traffic driver and revenue generator by creating a variety of St. Patrick's Day blog posts speaking to events, specials, and tips for celebrating this holiday in Chicago. In the month surrounding the March 17th holiday, there were no visits to the website driven from organic searches with phrases tailored to holiday. The blog, on the other hand, was more successful at capturing this audience:
218 visitors were driven directly to blog posts via St. Patrick's keywords versus, whereas  0 visitors arrived at the brand site directly St. Patrick's keywords
115 visitors were driven from these St. Patrick's Day blog posts to brand site, who may not have previously been captured in this conversion funnel.
According to a study conducted by Optify detailing how users interact with organic search engine results pages, broad, long-tailed keyword phrases show a better overall click-through rate on page one of the SERPs at 9%, over head term's average click through rate of only 4.6%. More specifically, a result displaying in the seventh position on a long-tailed search has a higher likelihood of being clicked on than a listing in the second position in a head term search result.  By adding more qualifying phrases in the initial search, such as those keywords relevant to events, attractions, and things to do in your area, you are reaching a more driven audience.
Apply the concept: So, according to the data, it is clear that it is incredibly important to use blogging as a way to leverage time-sensitive, trending events. The question then becomes, how can we do this? We've broken into down into these easy steps:
Research compelling local events
Define associated long tailed keywords
Write one (or several) content rich blog post(s)
Share content on social sites, linking back to the blog posts with compelling snippets
The result: Traffic will be captured, driven, and converted from social networks, blogs, and your website.
---
Source:
http://www.onlinemarketing-trends.com/2011/04/click-through-rates-by-keywords-search.html