Tag Cloud - search_engine_optimization

Milestone joins a panel of experts to discuss integrated and cross-channel marketing, tips for your SEO strategies, and what to watch out for in 2013. Learn more about the session and how to register here.
more...
About 273 days ago by Milestone Internet Marketing No Comments

How Google's recent change on semantic algorithm affects search result and how can hotels update website content strategically.
more...
About 395 days ago by Alice Lee No Comments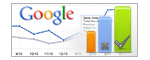 Google has updated their algorithms, thus updating the ranking factors and measurement criteria of websites and web pages online for 2011 and beyond. This article lays out the evolution of search engine marketing.
more...
About 611 days ago by John Pol No Comments


Andy Beal offers great search engine optimization insights and strategies at SES San Francisco 2011 for protecting your brand online and managing your online reputation.
more...
About 645 days ago by Meagan Hasenoehrl No Comments

In this educational session, learn about the array of tools GMs and eCommerce Managers can use to help improve their hotel's rankings in a wide variety of local search services – local, maps, etc.
more...
About 828 days ago by Milestone Internet Marketing No Comments

The session "How to Hire an SEO – Salaries, Types, and Titles" helped show inside information to the SEO industry and the ideal SEO manager.
more...
About 925 days ago by Milestone No Comments


A two-part educational session in which hoteliers can learn the difference between local and global search, and how to maximize social media efforts to increase website traffic and online revenue for hotels.
more...
About 956 days ago by Teresa Villaruz No Comments