Tag Cloud - podcast
We attended a great session in Pubcon 2009 on Multimedia and Rich Media. The session talks about the optimization opportunities with audio, video, flash and other embedded content. The session also talks about on optimizing for video engines such as youtube.
more...
About 1272 days ago by Milestone No Comments

Visibility on Search Engines—Search engine optimization (SEO) entails writing keyword-rich meta tags and enhanced content for your website to rank high on search engines for keywords relevant to your market. Based on our historical surveys, hotels report the highest ROI result from SEO efforts and hence should be the highest priority for e-commerce budget allocation. [...]
more...
About 2066 days ago by Milestone No Comments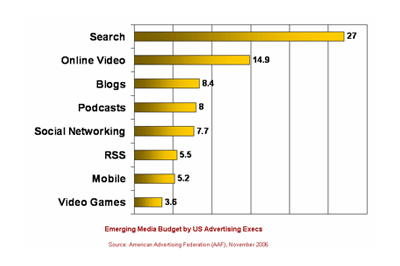 It is evident that Web 2.0 initiatives are changing the way all industries operate today. The chart below shows the overall spending by US marketing executives on the next generation of internet marketing technologies. As far as early adoption goes, the travel industry is lagging other major industries in investing in and taking advantage of [...]
more...
About 2122 days ago by Milestone No Comments

Check out Travelocity's Roaming Gnome interactive MySpace page! Gnome MySpace page engages consumers by offering funny videos, downloads, etc. This page also has two very important action features that customers can use to search for flights and hotel deals directly on MySpace, and can visit the Travelocity store to purchase fun Gnome artifacts. By creating [...]
more...
About 2175 days ago by Milestone Internet Marketing No Comments

Blogging for Lodging Blogs are the hottest growing medium of communication for businesses and individuals. Based on Technorati research (blog search engine), there are almost 3 million blogs created every month, and bloggers create over 1.6 million posts per day, or over 18 updates a second! What are Blogs? Blogs are websites with content management [...]
more...
About 2235 days ago by Milestone Internet Marketing 11

In this Podcast, you will discover the hottest news from Google, Yahoo, and other search engines. We have provided you latest tips for tapping into the new landscape of web marketing and maximizing online reservations. Click here to listen Bookmark this Article to del.icio.us
more...
About 2385 days ago by Milestone Internet Marketing No Comments


Is it a slick radio? What is podcasting? Podcasting is the process of creating searchable audio and video files, and distributing that content on the web through RSS syndication or direct distribution. A Podcast gives listeners great flexibility to listen to what they want, when they want. A Podcast has also proven to be a [...]
more...
About 2397 days ago by Milestone Internet Marketing No Comments