Tag Cloud - email_marketing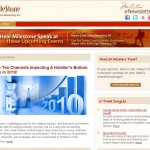 Get the latest tips and tricks to make your next E-Mail Newsletter a success while keeping in line with the Best E-Mail Marketing Practices.
more...
About 1070 days ago by Milestone Internet Marketing No Comments

2009 was a challenging year for the lodgin industry, and forecasts and reports indicate that the lodging industry recovery will be a slow and demanding process. The smart hotelier should keep a laser sharp focus on the channels that are driving maximum return on investment. Here are the top 10 promotion ideas, channels, and strategies that we recommend to hoteliers in the New Year.
more...
About 1163 days ago by Milestone 2

Every page of every website ought to be optimized. However, you might find a landing page within your site you felt was fully optimized, but has a bounce rate that is alarming. By doing so, you are losing an opportunity to convert a viewer. Here are 5 ways to improve poorly performing landing pages.
more...
About 1423 days ago by Milestone 1

Milestone Internet launches coupon for hotels module.
more...
About 1492 days ago by Milestone No Comments

As you step deep into the budgeting season, here are some tips for prioritizing your ecommerce budgeting dollars. This prioritized list is based on our experience with our portfolio of over 700 hotels and may vary depending on hotel's target clientele and market.
more...
About 1640 days ago by Milestone No Comments

Given the challenges in today's economy, internet marketing has become a critical method for driving online reservations for hotels. Whether your hotel's needs are short term, long term or both, there are a variety of internet marketing tools available to help you achieve your goals.
more...
About 1897 days ago by Milestone Internet Marketing 13

Email marketing continues to prove itself as an effective way to communicate with your customers—both existing and potential customers. There are several proven best practices in email marketing which can make your campaign increasingly successful.
more...
About 1897 days ago by Milestone Internet Marketing No Comments