Archive
Since September 2006 the only requirement to become a Facebook user is a valid email address. Since Facebook was made public it has gone thru a lot of development and is changing nearly on a monthly basis. With some creativity business owners can not only enhance their web presence but also develop unique and low budget marketing strategies.
more...
About 1171 days ago by Milestone No Comments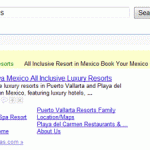 At SMX West in Santa Clara, Jerry Dischler, Vanessa Fox, andAriel Sumeruk speak on the benefits, problems and overall uses of Sitelinks, as well as tips and tricks when promoting your site online through Organic & PPC.
more...
About 1173 days ago by Milestone No Comments

Keyword research is the process of zeroing in on relevant keywords for a website. Covered by Christine Churchill of KeyRelevance, the keyword research tool and techniques boot camp session at the SMX 2010 covered an exhaustive and very useful list of tools and techniques for performing keyword research
more...
About 1173 days ago by Milestone No Comments

Google´s personalized search is impacting search results. Personalization can fill in the gap of ambiguous search queries based on geography, preference, and social circles. What does this mean for SEO? This panel takes a deep look into how Google's personalized search works and what role SEO still plays within it.
more...
About 1173 days ago by Milestone No Comments

Writing content for SEO involves addressing two audiences: the actual readers and the search engine crawlers. Hence, developing content for SEO requires a unique skill set which was covered in this session at the SMX West by Heather Lloyd Martin of Success Works and Jill Whalen of High Rankings
more...
About 1173 days ago by Milestone 1